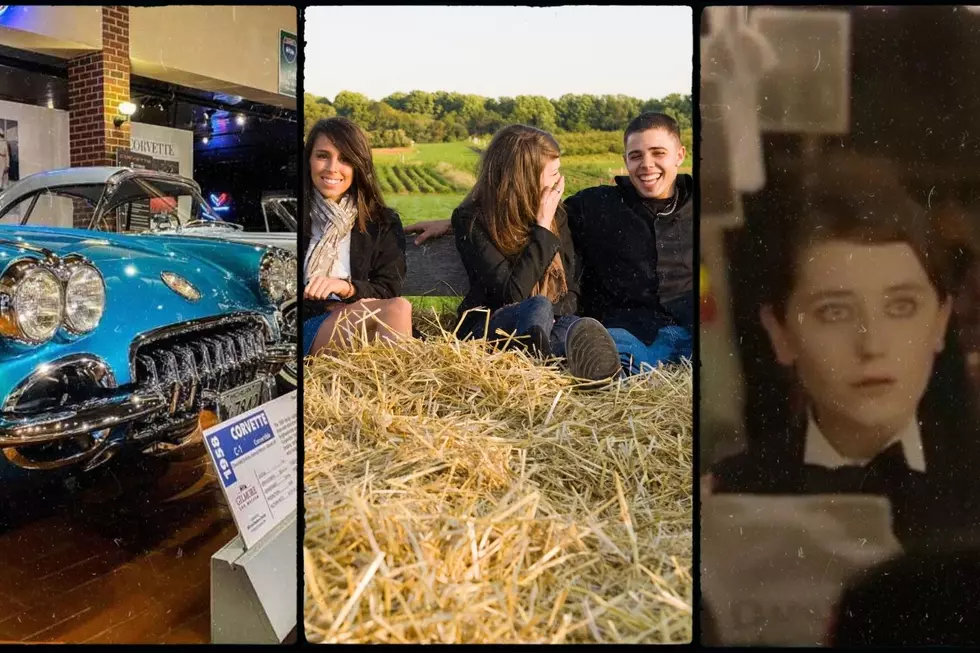 What's Up in Michigan This Weekend: Pumpkins, Hayrides & More
Photos via Gilmore Car Museum, bmcent1, and YouTube (Hell's Half Mile Film & Music Festival)
After a long, hot summer, there's now a chill in the air. It's finally fall in Mid-Michigan! Here are some fun things to do within a couple hours' drive of Lansing for the weekend of September 23-25, 2022.
Pumpkinfest
Campers at Van Buren State Park in South Haven will be able to enjoy Pumpkinfest Friday through Sunday (September 23-25). Fun, fall activities await children and adults of all ages, including a Halloween-themed campsite decorating contest.
---
Proud Lake Recreation Area Harvest Festival
Hayrides, bonfires and more are planned in Commerce Township at Proud Lake Recreation Area for its annual Harvest Festival. This is a campers-only event, and also features fall crafts, scavenger hunts, a Halloween costume contest and trick-or-treating.
---
Midland Antique Festival
The Midland Antique Festival is slated for Saturday and Sunday (September 24-25). Nearly 1000 antique dealers set up at the Midland County Fairgrounds to peddle their vintage wares. You'll find coin and sports memorabilia, shabby chic and heavy industrial items, and fine Michigan-made products of all kinds.
---
Skeletonfest Kickoff Party
Downtown Marshall is the backdrop for the Skeletonfest Kickoff Party on Saturday, September 24. Simultaneous events include the DeVine & Co. Fall Market, a Flea Market and Antique Show at Cornwell's, and the End of Summer Pig Roast with the Marshall Moose.
---
Cadillac Fall Festival
Don't be fooled! You don't have to travel to Cadillac to enjoy the Cadillac Fall Festival, to be held Friday and Saturday (September 23-24) at the Gilmore Car Museum in Hickory Corners (near Interlochen). It's a gathering and celebration of Cadillacs from 1903 to the present, and doubles as a fundraiser for the Cadillac Museum and the Boys & Girls Club of Kalamazoo.
---
Michigan Renaissance Festival
Only two weekends left to enjoy the Michigan Renaissance Festival in Holly! This weekend's theme is Harvest Huzzah. Features include an archery competition and a BBQ competition as well.
---
Grand Haven Hispanic Heritage Fiesta
The Grand Haven Hispanic Heritage Fiesta continues through Saturday, September 24. Hispanic-inspired food, dancing and music awaits you, with a culminating fiesta in Grand Haven's Central Park on Saturday.
---
Hell's Half Mile Film & Music Festival
Hell's Half Mile Film & Music Festival is underway through Sunday (September 25) in downtown Bay City. The event promises indie music, hard-hitting documentaries, quirky comedies and emotional drama.
---
Confluence Fest Grand Rapids
Confluence Fest is happening Friday and Saturday (September 23-24) at Studio Park in downtown Grand Rapids. Multiple music showcases are scheduled, along with an innovation showcase spotlighting regional companies at the forefront bringing new tech and innovation to gaming. The Maker Expo lets artists and artisans alike shine, and there's a future innovators' expo too.
Lies Michiganders Tell Themselves About Fall
Even those of us that say it's our favorite season are lying someway or another.
11 Reasons Why Fall is Michigan's Best Season
Fall is clearly the most superior of all the seasons that Michigan has to offer. But if you still needed some convincing, check out these reasons why fall is Michigan's best season.