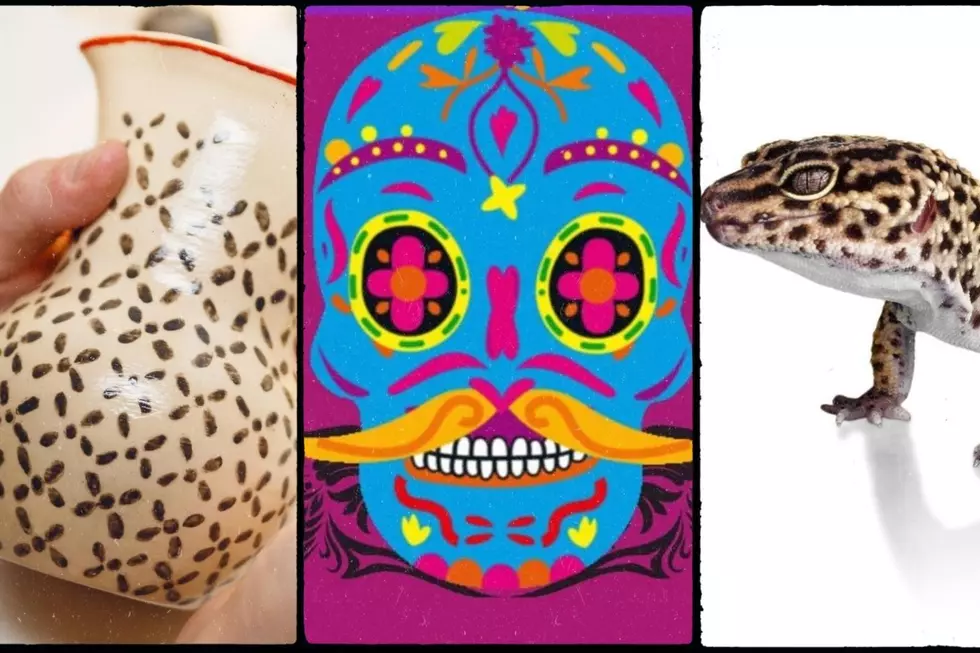 Michigan This Weekend: Veterans, Reptiles, Pottery & More
Photos via Canva and Facebook (Casa de Rosado Galeria and Cultural Center)
The first weekend of November looks to be warmer than normal - great weather to get out and about!
Here are some fun things to do in Mid-Michigan for the weekend of November 4th through the 6th, 2022.
Greater Lansing Potters' Guild Fall Sale
The Greater Lansing Potters' Guild's Fall Sale will be held at All Saints Episcopal Church in East Lansing Thursday (11/3) through Saturday (11/5). If you're searching for unique holiday gifts, be sure to shop this wide-ranging variety of mugs, bowls, jewelry and more made by artisans right here in Mid-Michigan.
---
Hush Haunted Attraction
Just because Halloween is over doesn't mean the horror, terror and thrills have to be! The Hush Haunted Attraction in Westland claims this weekend (Friday 11/4 and Saturday 11/5) offer the scariest haunted experiences of the season, as it send visitors through three pitch-black haunted houses with only one glowstick per group.
---
Día de Los Muertos
Casa de Rosado Galeria and Cultural Center in Lansing hosts its 26th Día de Los Muertos Celebration Friday (11/4) through Sunday (11/6). It's an opportunity to remember lost loved ones via ofrendas (which the Galeria and Cultural Center describes as "elaborately decorated, tiered table-top memorials filled with flowers, candles, memorabilia and food meant to welcome the spirit of a loved one that has passed"). The public is invited to participate and learn what this Mexican-American tradition is all about.
---
Jackson Sports Collectibles Show
The American Legion at 3200 Lansing Avenue in Jackson will host the Jackson Sports Collectibles Show on Saturday (11/5) from 9am to 3pm. Browse and buy collectible items from all major league sports and more.
---
8th Annual Veterans Day Party
One of Many Veterans - VMC - Lansing hosts its 8th Annual Veterans Day Party on Saturday (11/5) beginning at 7pm at 3230 N. East Street in Lansing. Veterans are invited to come alone or come as a couple for an evening of fun, including a live auction, raffles and more. Proceeds benefit Mid-Michigan veterans in need.
---
Lansing Reptile & Animal Extravaganza
Midwest Expos hosts the Lansing Reptile & Animal Extravaganza at the Knights of Columbus building on North Grand River in Lansing on Sunday (11/6) from 10am to 3pm. Owning a pet isn't limited to having a dog or a cat. Meet ferrets, sugar gliders, hamsters, guinea pigs, macaws, cockatoos, snakes and more, and shop for pertinent supplies too.
---
Mid-Michigan Rock Show
This weekend is the 28th annual Mid-Michigan Rock Show in Midland. Make no mistake; this isn't a concert. This is a geologist's dream! Rocks, fossils, minerals and more await visitors at the Chippewa Nature Center from 10am to 5pm on Sunday (11/6). Educational displays and presentations for rock collectors of all ages will be featured.
LOOK: Stunning animal photos from around the world
From grazing Tibetan antelope to migrating monarch butterflies, these 50 photos of wildlife around the world capture the staggering grace of the animal kingdom. The forthcoming gallery runs sequentially from air to land to water, and focuses on birds, land mammals, aquatic life, and insects as they work in pairs or groups, or sometimes all on their own.
States with the most registered hunters
Stacker
analyzed data from the U.S. Fish and Wildlife Service to determine which states have the most registered hunters. Read on to see how your state ranks on Stacker's list.