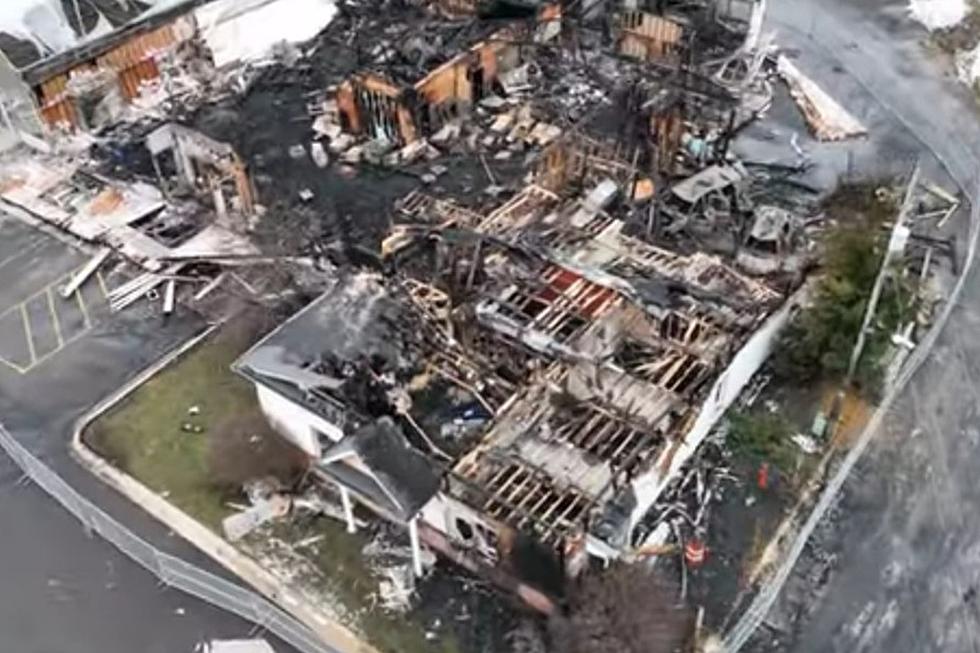 Drone Video Captures the Devastation in Davison After Fire Destroys Hank Graff Building [VIDEO]
jacuzzibusguy via YouTube
One day after a raging fire in Davison destroyed a building that is part of the Hank Graff Chevrolet complex, drone video of the aftermath has been released. That video is embedded below.
What Hank Graff Building Was Destroyed by Fire?
The building, which was formerly owned by Rayola Florist is located across the street from the Graff Chevrolet sales and service buildings. The Graff dealership's detailing and financial services had been moved to that building since its acquisition.
Multiple fire departments were called to the blaze on State Rd. in Davison Wednesday (1/12) around 8:30 pm. Firefighting efforts were coordinated by the Davison-Richfield Area Fire Department, according to the Davison Index. Crews from Elba Township, Burton, Lapeer, and Grand Blanc were called to help battle the blaze.
Davison-Richfield Area Fire Chief Brian Flewelling tells Mlive that the fire spread quickly.
"We had heavy fire involvement on the northwest corner of the building in the rear which quickly got into the attic and ran across the entire building," he said.
Fortunately, no one was inside the building at the time of the fire and no injuries were reported.
See Drone Video of the Devastation in Davison
YouTube user 'jacuzzibusguy' captured drone video of the aftermath from the fire the following morning, accompanied by police radio reports from the night of the fire.
A good stretch of M-15 (State Rd.) had to be closed for several hours Wednesday night as firefighters battled the blaze.
At this time, a cause for the fire has not yet been determined.
Michigan's William Peter Mansion For Sale, Ghosts and All
You can own a piece of Michigan history, complete with ghosts. The William Peter's Mansion in Columbiaville, Michigan is for sale complete with a history of hauntings. The 7 bedroom, 3.5 bathroom historic home was built in 1892 and completed for William Peter and his family. It's now a Bed & Breakfast and has been the subject of many a ghost story.
Haunted Journeys reported
the innkeepers and their brave guests will tell you that the Gentlemen's Quarters at the inn has a strong presence that cannot be explained. There is also the "lady of the house" that can often be seen by the grand staircase.
Ready to get your freight on, because seriously, some of these rooms seem to have a "vibe". The mansion is on the market for $799,900. Take a look inside, and pay close attention to some of the little haunting details.
These Three Michigan Homes Have Heated Driveways
On a cold, wintery day wouldn't it be nice to be able to flip a switch and have all that snow and ice melt off your driveway? No shoveling, no wrestling with the snowblower - just a little bump in your electric bill, and all that white stuff is gone.
We found three homes for sale here in Michigan that feature heated driveways.
And one of them (which is located in Kalamazoo) is listed for under a half million dollars.
#1 is in Holland. It's a 5,000 square foot beauty that lists for $3.5 million.
#2 is in Grand Haven. This five-bedroom home is on the market for $2.7 million.
#3 is in Kalamazoo. This is the most affordable of the bunch listing for just $499,000.
Check Out This 50s Themed Airbnb in Michigan
Here's a chance to step back in time to the days of poodle skirts, bobby socks, and saddle shoes.
This home in Frankenmuth features a cool 50s diner theme but also has some nice, modern touches -- like TV, WiFi, and indoor plumbing -- to make guests feel comfortable during their stay.
Check it out.