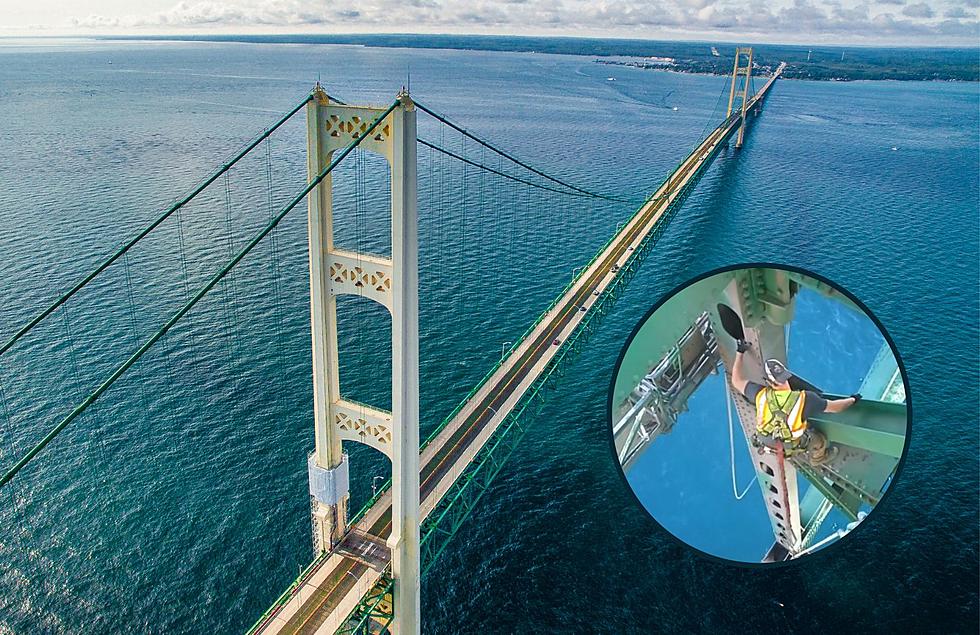 Could You Handle Working On Top Of The Mackinac Bridge?
@calebradtke0 on Tiktok / Canva
Around 4 million vehicles cross the Mackinac Bridge every single year. So if you live in Michigan, you may find yourself crossing the bridge that gaps the space between Michigan's Lower Peninsula and Upper Peninsula.
The Mackinac Bridge is a remarkable engineering feat. At 8,614 feet long, including the approaches, the bridge is an impressive sight to behold.
But the parts you may forget about are the ones above your car as you drive across it...
Not many people are familiar with the people who keep the bridge safe for us to cross it without (too many) worries. The Mackinac Bridge Authority works tirelessly to maintain and operate the bridge, ensuring the safety of all those who use it.
And one worker who is in charge of the tallest and scariest parts of the bridge has decided to share his birdseye view of the Straits of Mackinac with his TikTok followers.
While Caleb (@calebradtke0) doesn't have a lot of videos or follows, what you'll see on his account will leave you shaking in your shoes (if you're afraid of heights like me!)
While the water is beautiful, I think I'm a fan of visiting the bridge at the shore. While he does show some pretty crazy views over the past few years of his job
One of my favorite videos is from his point of view when it comes to hanging the flag on the Mackinac Bridge every Memorial Day weekend.
Pretty incredible, right?
We're all appreciative of what Caleb and the rest of his co-workers do to keep us all safe (and on the ground). We also love that he's sharing it with us so we can truly see what it takes to keep the Might Mac strong year after year.
Give him a follow if you want to keep up with his breathtaking views.
Check Out These Michigan Guinness World Book of Records Winners
These world record holders call Michigan their home, and here are the records they broke to make the Guinness Book of World Records.