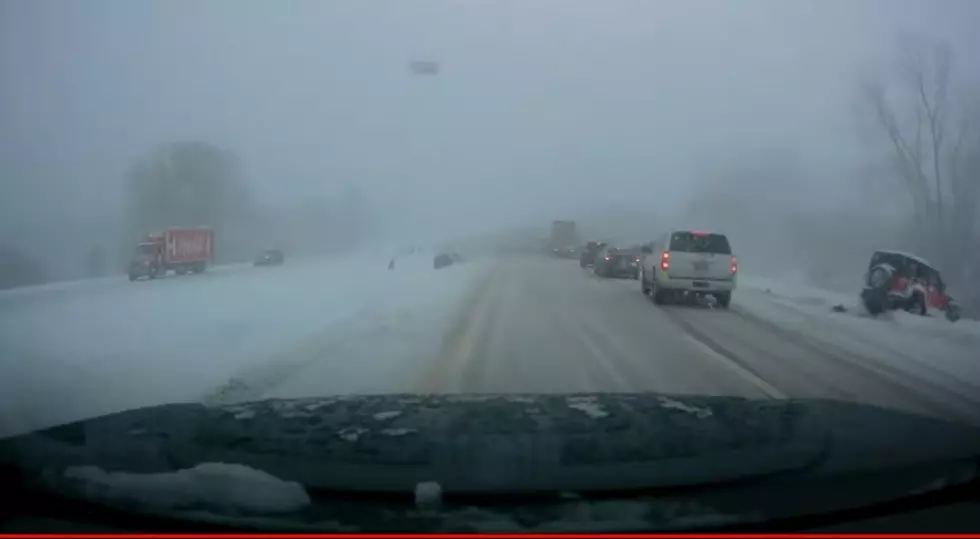 WATCH: Video Footage Of 20 Car Pileup On US-131
13 On Your Side via YouTube
The scariest part of being in a white out is not being able to see what the cars around you are doing.
The 20-Car Pile Up Shut Down US-131 Near Kalamazoo On Friday
The cars began sliding around near the D Avenue exit southbound on US 131 just north of Kalamazoo on Friday afternoon. The pile up appears near the end of the video as the vehicle from which the footage was taken from attempts to get around the outside of the mess, which was already well under way.
The pile up caused authorities to shut down southbound 131 for hours Friday afternoon, as they worked to get the vehicles out of the way.
The lack of visibility was a key factor in the incident, as well as the fact that several vehicles may have been driving too fast for the conditions.
A Pile Up Video Is No Place To Be Judgy
Early season lake effect snow storms, like the one we experienced last week, are often the cause of a a lot of slide offs. At one point Friday, local authorities said they were dealing with close to a thousand 911 calls caused by traffic issues.
Lake effect white outs are awful things to have to drive through, and I've had my share of slide offs, and I would want people to be a little understanding rather than judging me for my alleged lack of driving skills.
So let's stop filling up the comments section with your hot take, which isn't really that terrible hot, or even warm.
We saw many idiot drivers yesterday on 131, I will never understand why people choose to drive so recklessly in the ice and snow.
Good for you! I think I speak for all of us when I say, we're all happy for you. We're all happy to see you're better than the rest of us. But that doesn't help me get out of the ditch.
12 Cozy Cabins for a Perfect Winter Getaway in Michigan
Winter doesn't have to be all bad thanks to these cozy cabin stays throughout Michigan.