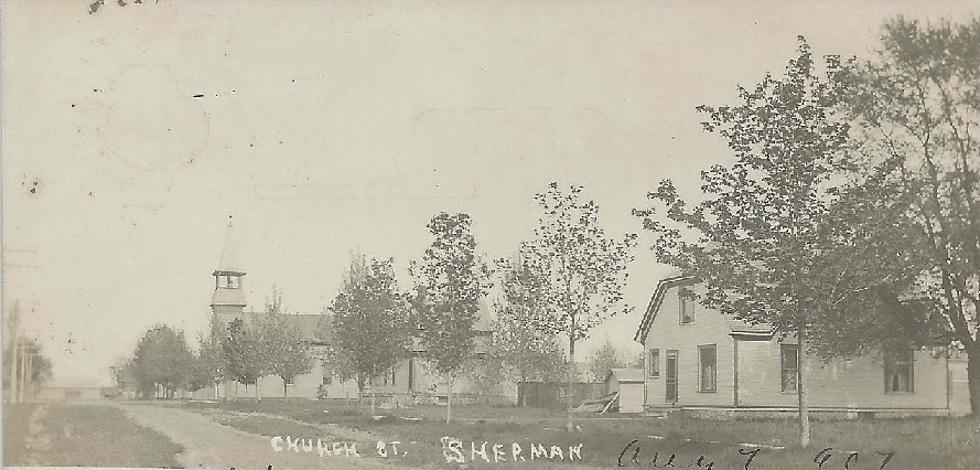 Sherman: Once the County Seat, Ruined By Fires
available @ worthpoint.com
Some sources call Sherman a ghost town, but I'd say it's more of a 'shadow town', as there are still a good handful of residents. Maybe it's without the busy downtown district it once had, but nevertheless….
Sherman is an unincorporated community in Wexford County in the U.S. state of Michigan. It was one of the earliest permanent settlements in Wexford County and was the first county seat.
According to Michigan Place Names, the first settler in the area is believed to be B.W. Hall who set up house in the 1860s. When Lewis Clark opened the first store in 1867, the community was called "Manistee Bridge" because of its proximity to the actual bridge.
A post office began operating in 1868 under the moniker "Sherman P.O.", named after the Civil War general, William Tecumseh Sherman. The name stuck and the village was platted by Sanford Gasser the following year.
1869: Sherman begins as the county seat
1881: County seat was moved from Sherman to Manton to Cadillac, part of the infamous "Battle of Sherman", as the town did its best to remain the county seat. It failed.
1887: Incorporated as a village
1880-1912: A series of three fires devastate the town, destroying the business district 1920s: The village becomes unincorporated
Michigan Ghost Towns says Sherman had two hotels, mechanic shops, general store, drug store, churches, newspaper, flour mills, sawmills, doctors, lawyers, bank, jewelry store, hardware stores, saloons, cobbler, millinery shop, jail, and school. Most all burned from the fires.
An historical marker sits alone on the corner, which reads, in part: "The first county courthouse, completed in 1872, was located about two hundred feet west of this marker (which is a Dead End, by the way). After a heated controversy, the county offices were transferred in 1880 to Manton, a small town in the eastern part of the county. The dispute was finally settled in 1882 when Cadillac was chosen as the county seat of Wexford County."
Take a look at the gallery below to see how Sherman once looked, and how it looks now.
Vintage Sherman, Michigan
MORE MICHIGAN TOWNS!
The Ghost Town of Sharon, Kalkaska County
Vintage Nashville, Michigan
The Ghost Community of Clinch, Iron County
Michigan Ghost Town of Redridge
The Ghost Town of Pioneer