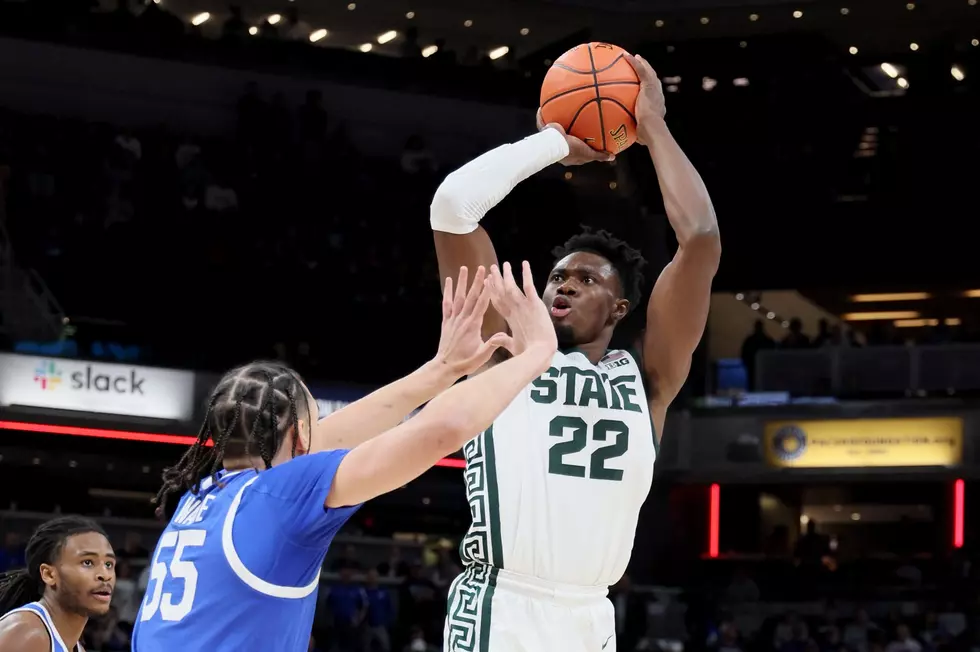 It's Early, But MSU Basketball Might Be Better Than We Thought
Getty Images
Michigan State men's basketball is now 2-1 on the young season after upsetting Number 4 Kentucky 86-77 in double overtime at the Champions Classic at Gainbridge Fieldhouse in Indianapolis on Tuesday night.
And while it is very early in the college basketball season, there are some positive things I've seen so far with this Spartan squad.  And they may be better than most fans/observers thought heading into the campaign.
Starting with...
MADY SISSOKO (PICTURED ABOVE) IS TURNING INTO A BEAST
After being a bit player his first two years on campus, the third-year sophomore (remember the free COVID year) is now starting in the frontcourt and has played great so far.  His performances against Gonzaga (14 points, 9 rebounds in 25 minutes) and Kentucky (16 points, 8 rebounds in 33 minutes) have positively stunned the Spartan Nation.  It's very early, but not many people saw that coming.  Sissoko's outstanding play has kept Pierre Brooks on the bench.  Keep making free throws (6-8 vs. Kentucky after struggling against the Zags) and he'll be even better.
AS LONG AS HE HITS SHOTS, JOEY HAUSER BELONGS IN THE ROTATION
State doesn't win over Kentucky without Joey Hauser's 23 points (on 8-16 shooting).  He's taken a lot of grief on social media because of his relative lack of defense and propensity for fouling (somewhat deserved).  But he can shoot and score.  And for a team with not a lot of depth (remember only 10 full-time scholarship players), they need to find some points from somebody.
POINT GUARD IS A STRENGTH, AS USUAL
Tyson Walker and A.J. Hoggard are pretty good point guards.  Not great, but pretty good.  If one guy gets in foul trouble or injured, you can put the other guy at the point and not lose anything.  Tuesday night, Hoggard wasn't at his best (only 4 points), and he missed most of the 2nd overtime with leg cramps.  Walker was excellent, scoring 14 points and dishing out 6 assists in 46 minutes played.  Starting both of them (as Tom Izzo did against Kentucky) might turn out to be a good thing.
MALIK HALL LOOKS SOLID
The fourth-year junior (remember the free COVID year) is turning into a solid college player.  His two dunks in the Kentucky game kept State alive.  And his 20 points (on 7-11 shooting) helped them win the game.  He looks good as well.
However, there are issues...
LACK OF DEPTH
Only six players played more than 25 minutes against Kentucky.  That has to change if they want have a very good season.  Jaxon Kohler, Tre Holloman, and Carson Cooper don't look to be ready yet.  That's understandable as they are true freshmen.  But they need to improve.  And they've got to have Jaden Akins at close to 100%.  Especially in Big Ten season.  Same with Pierre Brooks.  Sissoko's outstanding play has kept Brooks out of the starting lineup so far.
FOULS AND INJURIES
With the lack of depth right now.  If they get in major foul trouble, they ARE IN trouble.  With the way Coach Izzo emphasizes defense, they're going to commit more fouls than a lot of other teams.  That's hard for some State fans to accept (because they complain about the officials all the time), but it's true.  And if you lose players to fouls, you're playing backup players more minutes than you would like.  And if guys get hurt and have to miss time, they're in trouble as well.
HOWEVER...
There's a lot to like so far.  Mady Sissoko has played well.  The point guards are solid, and if Joey Hauser keeps making shots, they'll be fine.  Malik Hall looks solid as well.  Development of the freshmen is vital to this season.  If the freshmen get better, the whole team will benefit.
Lots to like so far with Spartan basketball.  The tough schedule looks like it's benefitting them.  That will help come March.  When it really matters.
7 Ways To Get the Michigan-MSU Rivalry Back Under Control
Tunnelgate has cast a dark cloud over the already-pernicious MSU-Michigan rivalry. Here are seven ideas to preserve our intrastate college football tradition without completely losing ourselves to the toxicity.