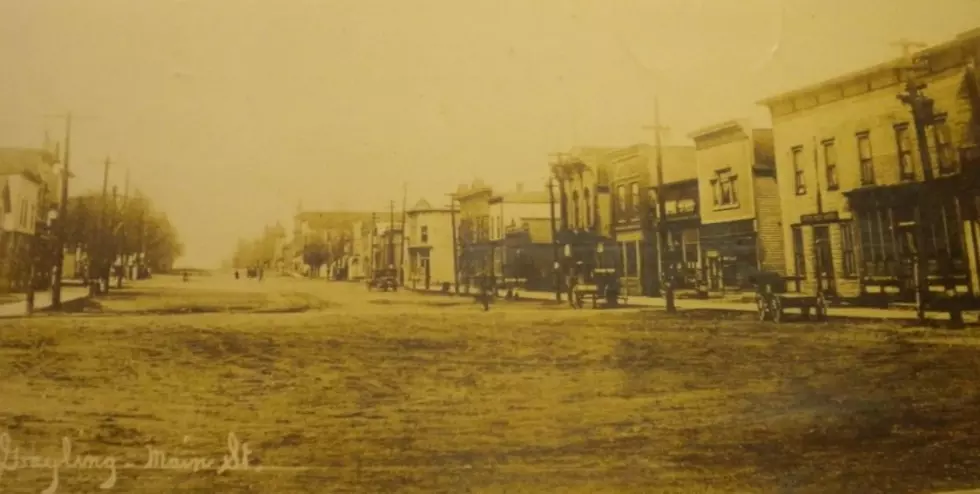 It's the 150th Birthday of Grayling, Michigan: See Vintage Photos From 1900-1964
available @ worthpoint.com
One of Michigan's most well-known towns celebrates its 150th birthday this year: 1872-2022.
On the endless trips to northern Michigan on US127/US75, one place consistently smacks us in the face with their road signs…"Grayling". While many of us know about Grayling – where it is, etc. – how many of you have actually pulled off and visited or driven through the area? And I don't mean to get gas or eat or pee. I mean to actually dig in and see what Grayling has to offer.
Michael Shoat Hartwick may have been Grayling's first settler, but he did not name it. The Saginaw & Jackson Railroad muscled through in 1874 and took it upon themselves to plat the town, calling it 'Crawford'. After calling the town name after name, like "AuSable", "Crawford Station", "Forest", and "Milltown", it finally settled on the name 'Grayling' after the (believed to be) now-extinct Grayling Trout, a fish that was once extremely plentiful in the Au Sable River.
There are plenty of things to do in and around Grayling, as you can find out for yourself HERE. But it's what lies in the surrounding areas that hold a special interest.
Oh, like the town that is supposed to be one of the most haunted in the entire country – Pere Cheney, approximately nine miles southeast of Grayling.
Pere Cheney was once a lumber town that was settled in 1869 in Crawford County and established in 1873. It was one of the first Crawford County settlements, as well as being the very first County seat. This upset the nearby town of Grayling who desperately wanted to be the county seat. Soon, Grayling began taking Pere Cheney's residents and businesses away, the post office closed up in 1912 and Pere Cheney was completely abandoned not long afterward. To read the rest of the tale and find out what makes Pere Cheney so haunted, go HERE.
Also of interest was the one-time tourist attraction, the "Underground Forest" located just north of Frederic, on Old 27 between Gaylord and Grayling. Many Michiganders who remember going there as kids have lost track of the Underground Forest's location. It is still there along Old 27, abandoned, with displays still inside. Find out more HERE.
23 miles northeast of Grayling at 1860 Fire Tower Road, south of Griffin Road in Oscoda County, is Coopersville, a re-creation of an old western town, right out of "Gunsmoke". This little town within the woods has all the establishments you'd come to expect from an old west town: saloon, blacksmith, livery stable, boarding house, general store, sheriff's office, courthouse, bordello, post office, Boot Hill cemetery, boot shop, feed & grain store, cafe', shoot-outs, bakery, trading post, chapel, and actors dressed as The Lone Ranger, John Wayne, Annie Oakley and other western characters. Read more info HERE.
One of Grayling's claim to fame is the fish hatchery, founded in 1914, with investors that included Henry Ford, Edsel Ford, and Thomas Edison.
And of course, the National Guard base that serves Michigan, Ohio, and Indiana.
Going north sometime this year? Help Grayling celebrate their 150th birthday! Visit some of their mom & pop shops soon and check out the history!
Vintage Photos of Grayling, 1900-1964
MORE VINTAGE MICHIGAN PHOTOS:
Vintage Photos of Alpena, 1900-1940s
Vintage Photos of Old 27
Vintage Photos of Pinconning