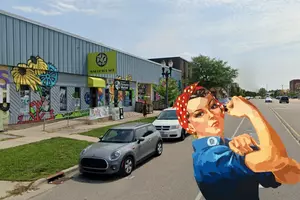 Rosie The Riveter Day Makes For Exciting Festivities In REO Town
Google Street View / Canva
Not only is March Women's History Month but March 21st is also, somewhat unofficially, "National Rosie the Riveter Day." What makes it even more special is while there are a few theories of who the REAL Rosie the Riveter is, we have reason to believe she had roots here in Michigan!
That's why, this weekend, Lansing's own REO Town is celebrating Rosie and all the women-owned businesses that contribute to the community.
Wait, Was Rosie the Riveter Actually From Michigan?
I know, I was a bit confused too but after a bit of digging, we've got actually two women with ties to Michigan that are often brought up when discussing who the REAL Rosie was.
According to the History Channel website, the inspiration for Rosie is believed by some to have been Geraldine Hoff Doyle who was from Michigan and worked in a Navy machine shop during WWII.
Another woman believed to be Rosie, was Rose Will Monroe, who moved to Detroit to work as a riveter at the Willow Run Bomber Plant.
Referred to as "Michigan's Own Rosie the Riveter" by Motorcities National Heritage Area, Monroe's story kind of picks up where another left off when in 1944, war bond propaganda footage was being shot at Willow Run.
Walter Pidgeon found out Monroe's name was actually Rose and that she was a riveter. As "Rosie the Riveter" had already become a symbol of women in the workforce, she was a perfect fit. Also, there was even a song, she matched the description of another woman, Rosalind P. Walter, also believed to be the OG Rosie:
Rosie the Riveter's Legacy Lives on in Michigan
While, sure, there can be debate if Rosie was actually FROM Michigan, we still continue to honor here here as if she was.
For example, the Yankee Air Museum at Willow Run has their Rosie the Riveter Drill Team where you can actually still sign up to be a "tribute Rosie."
Just in October of 2017, people dressed as Rosie the Riveter in Ypsilanti and set a world record for the most people gathered dressed like her!
Lansing's Own REO Town Honoring Rosie in 2022
As Rosie the Riveter Day approaches, it's actually not an "official" national holiday. It's come close a few times but you can actually sign the petition to help things along!
The petition would make it so every March 21st would be National Rosie the Riveter Day so that is when we get to celebrate it this year.
This Saturday, leading up to Rosie the Riveter day, REO Town is hosting a "Get Rosie on the Riveter - Celebrate the Women of REO Town" event.
According to the event's Facebook page, the festivities start at 11 am on Saturday, March 19th and end at 7pm.
Because of REO Town's "social district" status, you can "sip and shop" at over a dozen women-owned businesses along S. Washington.
Per the event's page, select shops will be having "special edition" buttons featuring influential women from Michigan and more.
We're sure you'll also get some bragging rights, or at least some street cred, if you show up in costume!
LOOK: Milestones in women's history from the year you were born
Women have left marks on everything from entertainment and music to space exploration, athletics, and technology. Each passing year and new milestone makes it clear both how recent this history-making is in relation to the rest of the country, as well as how far we still need to go. The resulting timeline shows that women are constantly making history worthy of best-selling biographies and classroom textbooks; someone just needs to write about them.
Scroll through to find out when women in the U.S. and around the world won rights, the names of women who shattered the glass ceiling, and which country's women banded together to end a civil war.