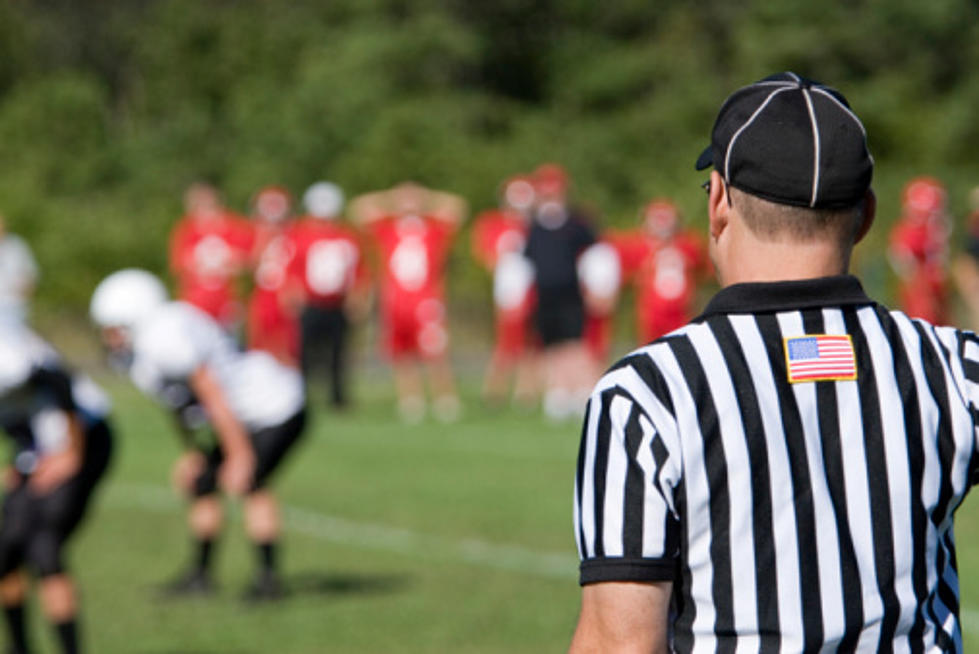 In 1920, a Referee in Michigan Helped Invent 'Zebra Stripes' and was First to Wear Them
Getty Images/iStockphoto
The reason for this is probably what you would guess. Officials in sports should stand out so that they are not mixed up with the players, especially in contact sports like football.
Indeed it was at a football game in Michigan in 1920 when a referee had enough of interference with players due to the clothing he had been wearing to officiate games. At this time, officials typically wore a white shirt and teams often would wear white as well. So he decided it was time to change his wardrobe. His name was Lloyd Olds.
According to an in-depth article from the Eastern Michigan University website, Olds was officiating a football game in Ypsilanti between Michigan State Normal College (now Eastern Michigan University) and a team from Arizona. The away team was wearing all white jerseys and pants. During a play, the quarterback was looking for an open receiver and thought he found one. He threw the ball to that open receiver but it turned out to be the official, also wearing white from head to toe. And this wasn't Lloyd's first experience of being confused with a player. He had begun officiating in 1914 and said it happened several times before that game in 1920 that birthed an idea to fix the problem.
Lloyd found the owner of a sports shop in Ann Arbor and the two worked to come up with an official uniform for, well, officials. They wanted to make sure it would stand out and not be confused with a team's uniform no matter what color they were wearing for a game. So they came up with a variation of what we see many referees wear today and have known for over 100 years. But at the time, the shirts were like nothing anyone had ever seen. Alternating thin vertical black and white stripes from sheets of fabric mended together from front to back.
It did not go over well at first when he appeared at his next game wearing this weird, new outfit. Lloyd said he took a lot of criticism and ribbing, but it was short-lived. Soon, other referees in football, and other sports, adopted the look, which is now iconic in sports.
And referees lived happily ever after and never received criticism of any kind ever again.;)
Michigan's Greatest Sports Traditions
Part of the allure of sports is the sense of tradition, and these Michigan traditions are something that fans look forward to every year.