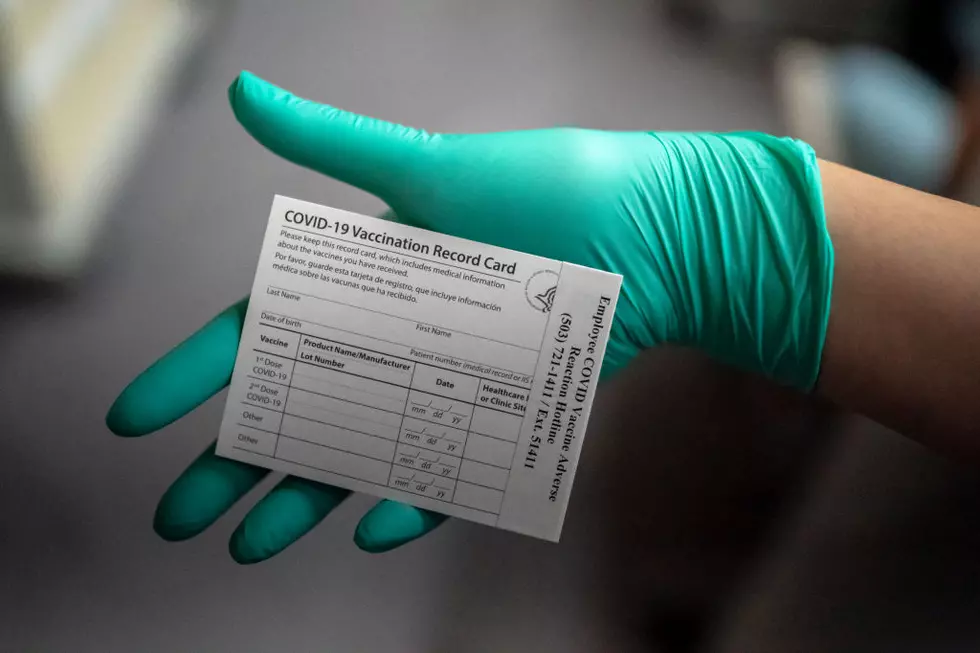 Warning: Don't Post Your COVID Vaccine Cards on Social Media Says BBB
Nathan Howard/Getty Images
Since the COVID vaccine rolled out I'm sure you've noticed some of your friends on social media showing off a card that they got vaccinated with some caption like "helping stop this virus;" or maybe it was you who was doing the showing off. That's great, and a personal thank you for that, but you may want to think twice before snapping a picture and posting it for everyone to see.
The Better Business Bureau says that posting your COVID-19 vaccine card to social media makes you vulnerable and a target to scammers. The card itself contains your full name, your birthday, and where you got vaccinated -- this is all the information someone needs to steal and even sell your identity. The BBB says that it's already begun in the U.K. where vaccination cards were being sold on eBay and TikTok
It's only a matter of time before similar cons come to the United States and Canada.
If you do want to share your vaccine card there are ways you can go about it safely. The BBB offered the following tips:
Post your vaccine sticker instead of card
Use a profile frame to show you got vaccinated instead of the card
Check your security settings on all your social media pages (don't set the post to public)
Think before getting involved in social media trends such as the vaccination card, posting top 10 favorites, listing all the cars you've owned, etc. All of these things can be used to guess your password or answer a security question.
This vaccine card scam is one of many since the pandemic. Stay in-the-know with all the types of scams out there so you can protect yourself not only from the virus but from potential frauds.
If you see or feel something suspicious, report the scam to the Better Business Bureau.
Enter your number to get our free mobile app
See the 25 weirdest scams ever