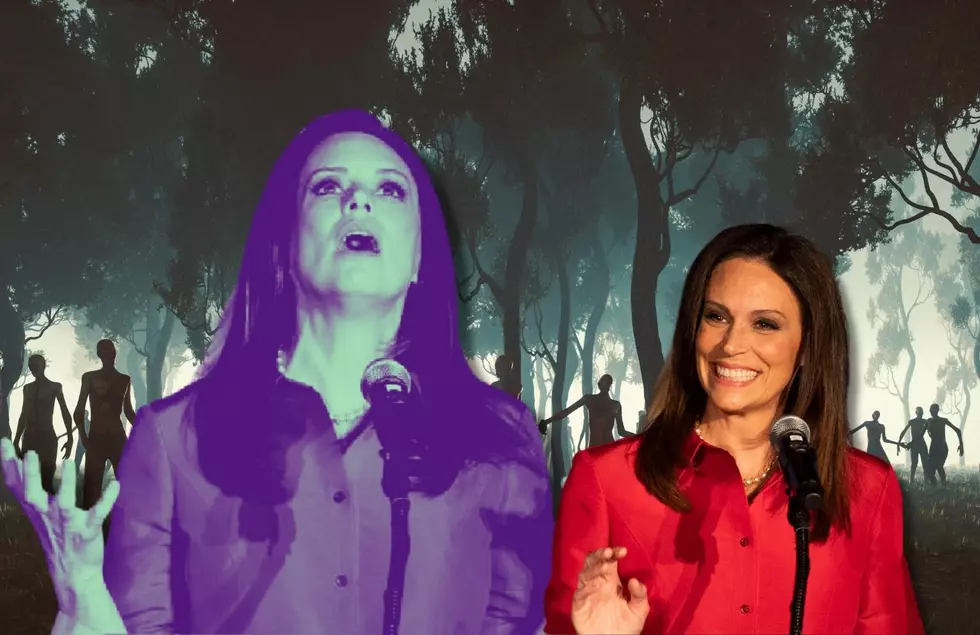 Did you know that Michigan Governor Candidate Tudor Dixon Once Starred in a Zombie Movie?
Getty Images / Canva
Let's be honest, most of us remember back in the early 2010s when Zombie movies and TV shows were the king of everything. Between Zombieland, The Walking Dead, Shawn of the Dead and Z, it was hard to turn on a screen and not see something that wanted to eat your brain.
And while we all do things in college that we may regret, most of us don't run for office and have to face those embarrassing things quite like Michigan Gubernatorial candidate Tudor Dixon.
If you go to IMDb.com, you'll find her name listed with four acting credits, all ranging from 2008 - 2012, where she played characters in various projects.
One of her credits include a TV show called Transitions: The Series
which is about a vampire and their transition from life to death, where she played a character named Claire for 11 episodes.
While the show went on longer, Dixon's role was cut short halfway through the web series.
However, the shining star of her roles is a "more known" (if you can say that about a indie film) short film titled Buddy Bebop Vs. The Living Dead.
According to the synopsis on IMDb, the film is set in 1956 and follows a group of four friends who start their evening at a roller rink, and end up fighting zombies and trying to save the world along the way, all while apparently only having one color available to them at a time.
Tudor Dixon doesn't play one of the main four characters, however you can spot her in the trailer. Don't blink or you'll miss her as she is taken down by two zombies.
And while the movie was far from a box office record breaker, it's gained quite a bit of attention now that one of it's stars is running for office. And yes, if you want to see it yourself: it is available on amazon prime for you to stream.
How does Tudor Dixon feel about these movies now?
Just like the rest of us, it seems she's a little embarrassed by the things she did while she was younger. When the Michigan democratic party tried to pull up these films in an attack ad against the candidate running for Governor, her team was quick to fire back.
When asked later about the movie, she joked about helping and was quoted saying "I believe that you said you watched some of it, so I certainly hope you don't think that was ever a career goal of mine."
Why did Tudor Dixon agree to star in these projects?
The projects were all mainly filmed in the Kalamazoo area, and on record Tudor Dixon has said that she did it just to "help out". We've all had buddies who made a movie, and it's pretty fun to jump in and play along.
It's just that most of us don't end up running for governor later on. But hey, at least this weird chapter of her life is fun for the rest of us to watch and remember as she runs for Governor of Michigan this fall.
And before you ask, I don't think Daryl Dixon of The Walking Dead is related to her, but after this discovery, it's hard to say for sure.
10 Binge Worthy Movies Or TV Shows Filmed In Michigan
Movies and TV shows filmed in Michigan worth binge watching