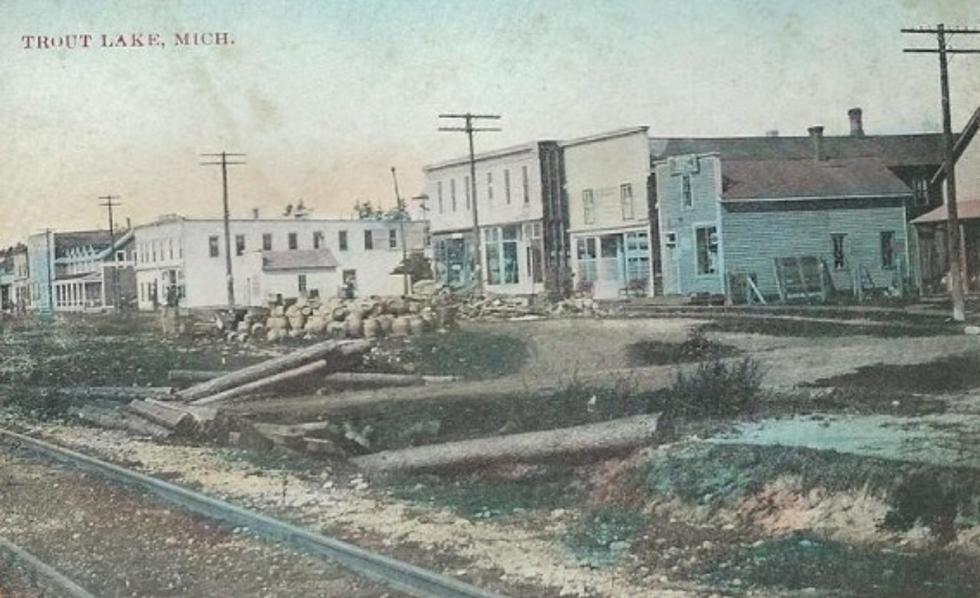 Vintage Photos of Trout Lake, Chippewa County
available @ worthpoint.com
The village of Trout Lake lies in Trout Lake Township within Chippewa County in the Upper Peninsula. Originally inhabited by Native Americans, the white man brought their logging business to Trout Lake by the mid 1800s.
In 1881 the village was settled at a junction where two railroads met, becoming a trading post for many of the nearby lumber camps. A post office began operating in 1888 with Charles Coffey as its first postmaster.
Trout Lake was platted in 1888 by the Peninsular Land Company and dubbed the community 'Trout Lake Junction'. Many buildings were constructed around the railroads, including a bunkhouse, depot, pump houses, repair shops, roundhouse, section house, and storage tanks, all keeping a total of thirty employees extremely busy. Eight passenger trains came though each day, along with another late-night freight.
A Wisconsin man, Edgar Ford, bought some land and built the historic Birch Lodge on the east side of the lake in 1912. It still stands to this day, open for business. The lumber business may have dwindled, but the village of Trout Lake seems to be doing OK after all these years. It's officially known as an unincorporated community, but you wouldn't know it when you visit.
There are still a nice handful of businesses still around, and plenty of old, original houses, storefronts and abandoned structures that stand as a reminder of the Trout Lake of the 1800's.
Take a look at some great vintage photos in the gallery below!
Vintage Photos of Trout Creek
MORE VINTAGE MICHIGAN TOWNS!
Vintage Perry, Michigan
Vintage Ludington
Vintage Photos of Pinckney
Vintage Nashville, Michigan
Vintage Idlewild