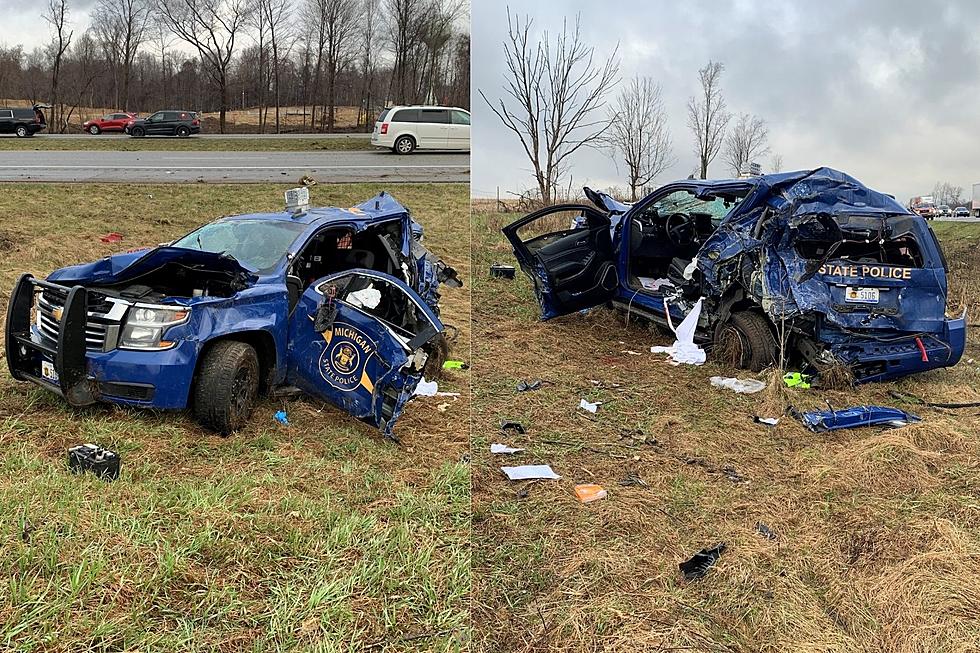 Michigan State Police Trooper Injured after Vehicle Struck By Semi
Courtesy of MSP
A Michigan State Police trooper had to be extracted from his patrol vehicle and is hospitalized after his patrol vehicle was struck by a semi.
A Michigan State Police trooper was injured following an accident on eastbound I-94 by mile marker 51, near Lawrence in Van Buren County. The trooper was on the scene of a previous and unrelated accident when his patrol vehicle was struck by a semi-tractor trailer.
The accident left the trooper trapped in his vehicle, a Chevy Tahoe, and emergency crews had to extricate him. A Michigan State Police spokesperson said that the trooper was awake and alert prior to being transported to an area hospital for medical care. His injuries are reportedly non-life-threatening.
The force of the collision sent caused the semi to flip onto its side. The preliminary investigation reveals troopers were investigating a previous crash at this venue when the patrol vehicle was struck. The driver of the semi sustained only minor injuries.
I-94
The Most Handsome House in Hastings is Now For Sale
A house that was deemed the "most handsome" in Hastings is now for sale. Constructed in 1885, this home still holds all of its elegant charms.