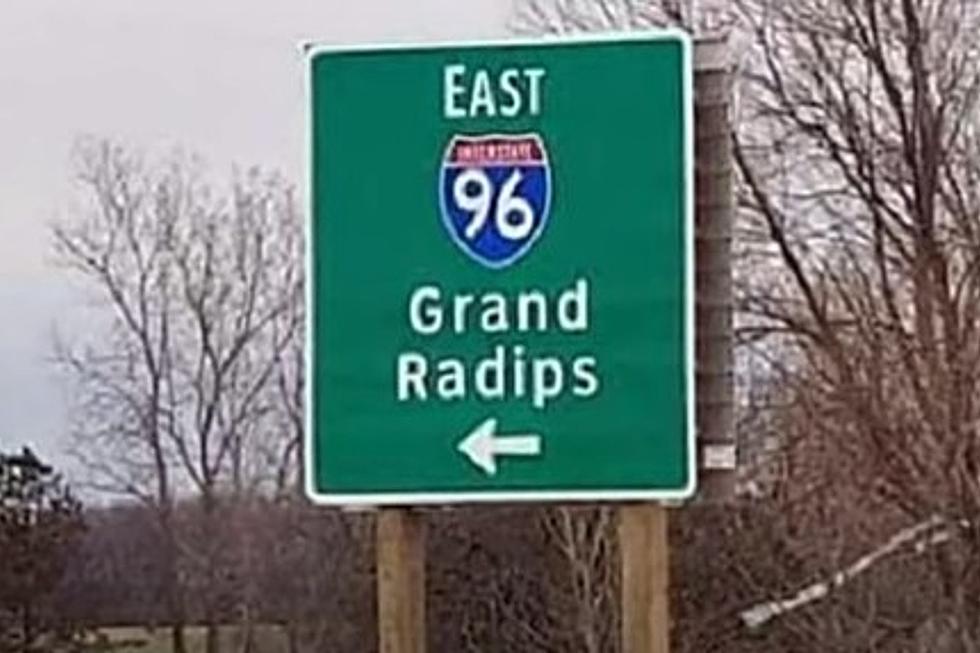 MDOT Responds After Two Pretty Big Misspellings on Michigan Road Signs
13 ON YOUR SIDE via YouTube
Well, this is embarrassing, isn't it? While the rest of us are laughing and shaking our heads, Michigan officials are hanging their heads in shame (we're just guessing) after news of a couple of misspellings on Michigan road signs went viral yesterday.
We shared the news yesterday after someone spotted a brand new road sign at the entrance to I-96 in Coopersville that erroneously spells 'Grand Rapids' as 'Grand Radips.' (Ope!) And speaking of Coopersville, there's a sign at the next exit which omits the 'S,' leading the way to 'Cooperville.'
Thank you, MDOT, you never let us down. Oh, wait. You're responsible for the roads in Michigan? Let me correct my spelling: You let us down every damn day.
Michigan Department of Transportation Responds to Misspellings
MDOT basically chalks it all up to the fact that we're all human and we all make mistakes. Grand Rapids TV station WZZM spoke with MDOT's Southwest region spokesperson Nick Schirripa about the gaffes.
"We all make mistakes," Schirripa says. "There's no science here, somebody just made a mistake, and it didn't get caught until it was on a post."
He goes on to say that the work to make the signs was done by a contractor and overseen by a consultant, but "there were no MDOT eyes on this project."
Schirripa says the 'Grand Radips' misspelling has been covered up and the old Coopersville signs have gone back up as a temporary fix before the signs can be remade.
He says the new signs should be up in a couple of weeks or so.
Who Pays For These Mistakes?
Schirripa goes on to explain that if the contractors or the fabricators who manufactured the signs are responsible for the errors, they are the ones that get stuck with the cost to remake the signs.
"We're not going to make taxpayers pay for the same sign twice when it's human error," he said.

 
16 Notable and/or Famous People From Grand Rapids, Michigan
Check out just 16 famous or notable people from Grand Rapids, Michigan.
Own This Michigan Bowling Alley Frozen in Time : Look
The 1950s are alive and well in downtown Carson City, Michigan. The local bowling alley, Carson City Lanes, is a bit of a time capsule in itself. Nostalgia awaits bowlers in the charming small town bowling alley complete with much of the same equipment from the 1950s. The charming historical gem is currently
on the market priced at $130,000.
Get ready to step back in time! Take a look.
Check Out the Harper House, a Rare Frank Lloyd Wright Home in Michigan
The Harper House is a stunning home with an incredible view of Lake Michigan. It's believed to be one of just a few Michigan homes designed by legendary architect Frank Lloyd Wright.
There are conflicting accounts of the home's age online; it was either built in 1950 or 1959. If the latter is true, this would make it the last home in Michigan to be designed by Wright.
According to the listing, it features Tidewater Cypress and Chicago Common Brick, mitered glass corners, several pieces of built-in furniture, cedar-lined closets, and more. It is simply breathtaking.
The property is reputed to rarely go on the market, but it was just listed for sale by by Anne Gain of
@Properties
.