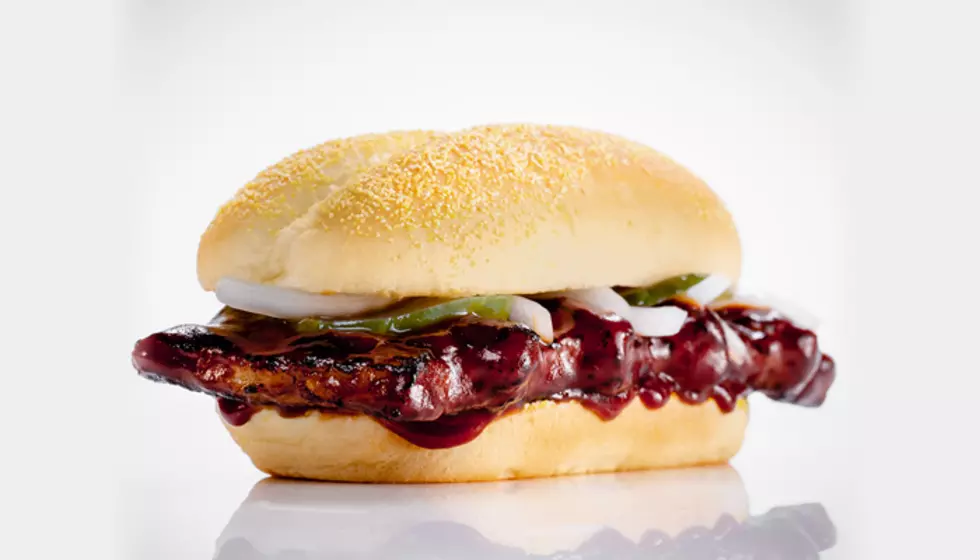 McDonald's Giving Away 10,000 Free McRibs for a Clean Shave
Photo: McDonald's Press Room
'Tis the season! No not Christmas, McRib.
Tomorrow is the big day for McRib lovers everywhere when as McDonald's brings back the iconic menu favorite. Not only are they bringing it back, they're bringing it back bigger than ever.
The fast food chain announced back in October that they would be bringing the fan-favorite nationwide for the first time since 2012 starting December 2nd . The sandwich will be available for a limited-time at more than 14,400 of the chain's U.S. restaurants for the first time in nearly a decade. 
Now to sweeten the deal, McDonald's has announced it's giving away 10,000 free McRib sandwiches. ( big applause). 
So how to you score this delectable delight ? All you have to do is post a clean-shaven selfie on Twitter tagging #shave4mcribsweepstakes and @McDonalds! Which is perfect coming off of "No Shave November" because with every purchase of a McRib on December 2nd McDonald's will make donation to the charity's cancer initiatives. The contest last just one day, December 2nd, and rules can be found here. The winners will receive a code for a free sandwich through McDelivery or Uber eats.
"Our bearded fans know… facial hair and the McRib just don't mix—believe me, I've tried," said Vice President of U.S. Communications, David Tovar. "With the nationwide return of the McRib, we're helping fans enjoy every delectable moment by encouraging them to shave for a chance to win a free McRib. And we're excited this year to partner with No-Shave November, a charity that knows a thing or two about facial hair."
Enter your number to get our free mobile app
The McRib made its national debut at McDonald's in 1982, and today it's one of the most anticipated, limited-time menu items offered around the world. Fans wait for its return each and every year. Customers in Germany are lucky enough to enjoy the sandwich year-round.
LOOK: Here are copycat recipes from 20 of the most popular fast food restaurants in America