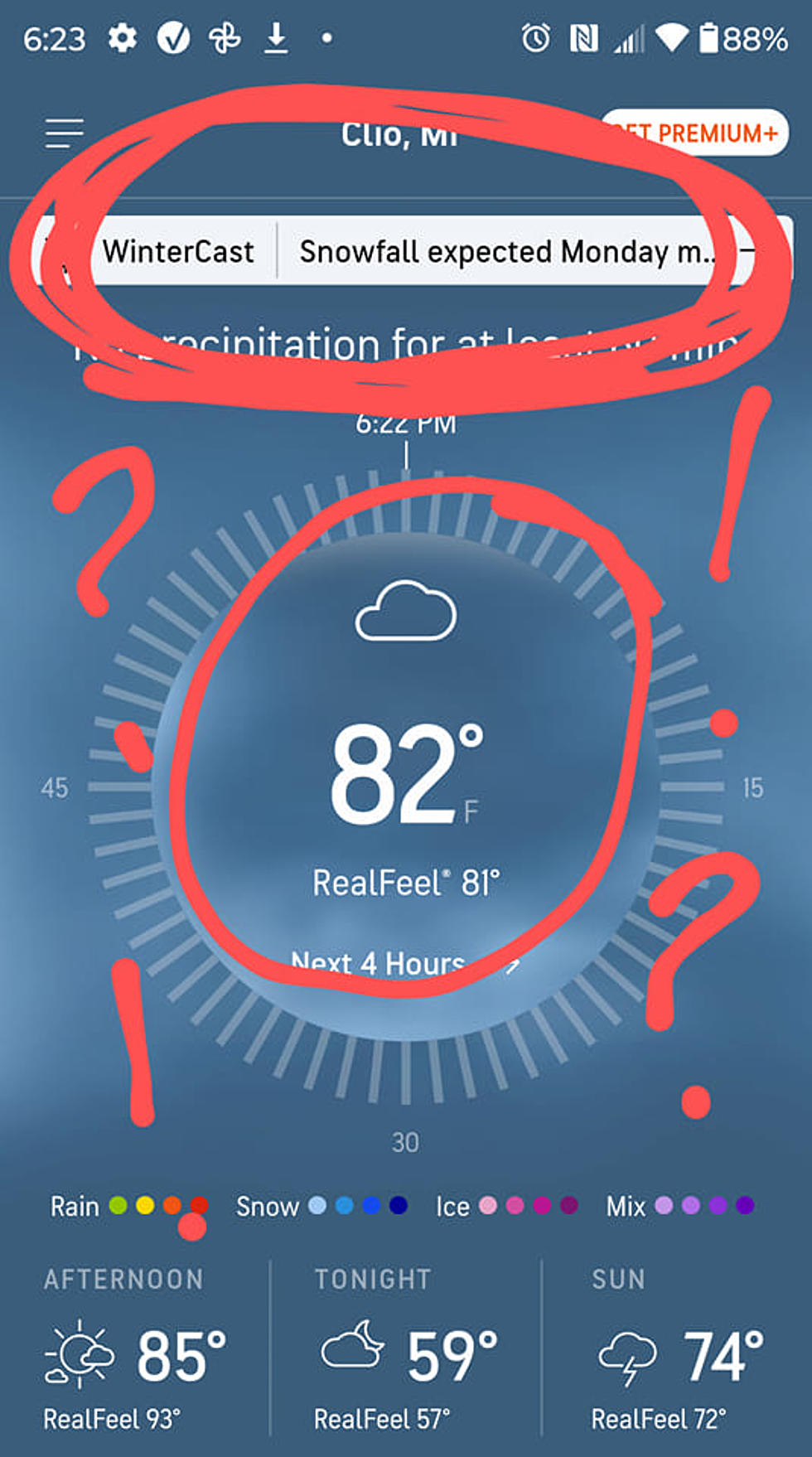 Michigan Weather: From Record Breaking Heat to Snow in Just a Matter of Days
K Pizzo
Congratulations, Michigan. You've really outdone yourself this time, going from record-breaking high temperatures to a snowy forecast in just a matter of a couple of days.
A Temperature Kiss in Mid-April
Much of Lower Michigan was treated to unseasonably warm temperatures this week, with temperatures soaring into the 80s all throughout the Lower Peninsula. Over the past several days, many high-temperature records were broken.
Flint hit 82 degrees on Friday (4/14), breaking the record set in 1941 when the high hit 81 degrees.
Two weather records were broken in Flint on Wednesday (4/12) when the temp hit 81 degrees and we posted the warmest low in history with the mercury only dipping to 58 degrees.
Cities in Northern Michigan toppled record highs this week, with Gaylord, Alpena, Traverse City, and Houghton Lake all soaring past their historical highs.
Lansing broke a 140-year record on Friday, hitting 85 degrees.
What are the normal highs for this time of year? The average high temperature for Flint and the Tri-Cities is about 56 degrees in the middle of April, while folks in the northern half of Lower Michigan can usually expect about 52 degrees. Average temps across the UP can vary, with the weather in Marquette running five or six degrees below Lower Michigan.
But That's All About to Change
Most of us will be in for a rude awakening on Monday and Tuesday. According to the National Weather Service, there is a 90% chance of precipitation Monday as snow showers are expected throughout the day.
Snow could begin as early as Sunday evening and go as late as Monday night, according to the NWS.
In the Flint area, that snow is expected to be mixed with rain early in the day Monday and again in the afternoon. Scattered snow showers are expected to continue Monday night.
However, little to no snow accumulation is likely throughout the state as temperatures are expected to be above freezing, for the most part.
This is Actually Normal, Michigan
While 50-degree temperature swings can sometimes wreak havoc with sinuses and seem like an unusual occurrence, Joe Ceru, a meteorologist with the Nationa Weather Service in Grand Rapids tells the Lansing State Journal it's not at all uncommon.
"We will go from summer-like weather to an early spring blast of winter weather, which is climatologically normal." Ceru says. "This typically happens."
By the end of this week, much of Lower Michigan will be back into the 50s.
These Weather Memes Are Pure Michigan
These Michigan weather memes are the best of the best.
Detroit Pistons Forward Marvin Bagley's $4 Million Home
This sprawling mansion which is owned by Detroit Pistons forward Marvin Bagley III is an absolute beauty.
It's located about a half hour from where Bagley grew up, and features five bedrooms, seven glorious bathrooms, and lots of extras.
This Luxury A-Frame Even Has Its Own Instagram Detailing the Building Process
This awesome A-Frame rental in Saugatuck has all the amenities. It even has its own
Instagram page
, detailing the building process.
Be sure to check out the ladder access to the loft at the very top of the home. The kids will love it.