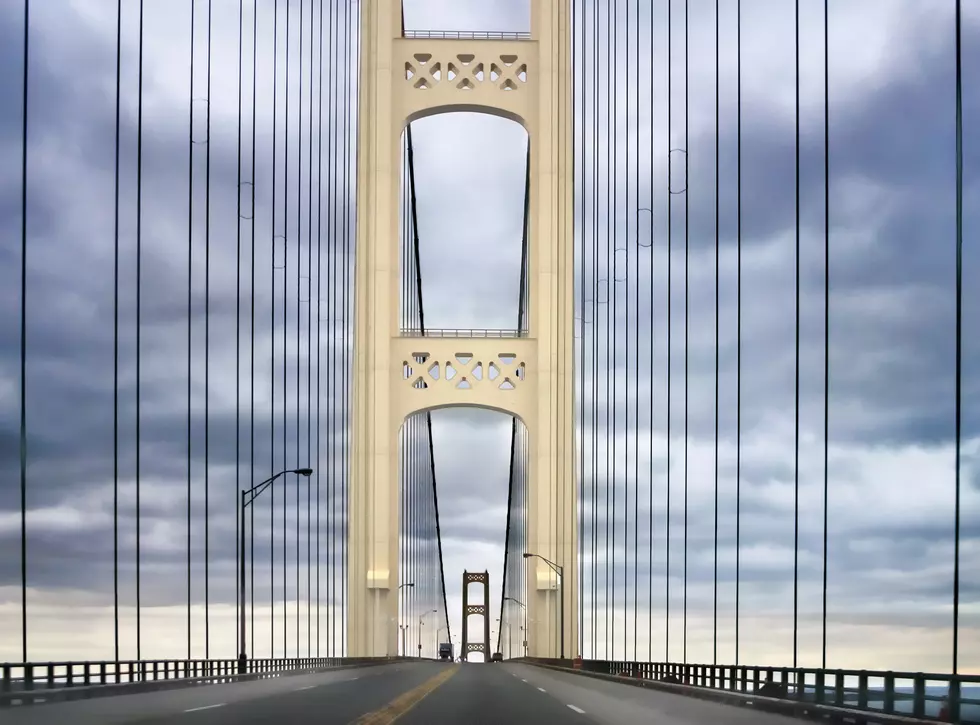 Celebrating 65 Years of Michigan's Mighty Mackinac Bridge
DougLemke
Michigan is home to more coastline than any other state in the United States.  That's not the only impressive stat we have... How about the world's 27th longest main span bridge, too.  At five miles in total roadway between St. Ignace, MI and Mackinac City, MI over the Straits of Mackinac, the bridge is iconic as "The Mighty Mack" or "Big Mac" (not in reference to a certain, popular food).
November 1, 1957, marks the opening of the bridge to traffic, for the first time.  A Bridge Authority was created in June of 1950 -- that's a LOT of planning (as it should be, you don't want it to collapse while driving or walking across, right?)  Construction began May 7th, 1954.  So, once they got started, it didn't take too long.
Random Facts About the Mackinac Bridge:
Height of main towers above watter = 552 feet
Water is 295 feet deep at mid-span
155 feet of clearance for ships under the mid-span section
Total length of wire in main cables (is unbelievable) 42,000 miles
Maximum tension in each cable is up to 16,000 tons (36,000lbs)
Over 1,000,000 bolts and 4,851,700 steel rivets
Over 11,000 people worked between construction, shops, engineers, etc.  Five men lost their lives during construction. One from diving and four from accidents at varying heights.  One other man died while painting the bridge in 1997.
According to Mackinac Bridge Authority, there was inspiration and hope from the opening of the Brooklyn Bridge, in 1883, that one day there would be a structure connecting the "mitten" to the "rabbit."  The rest...is history.
Look Into This 100 Year Old Abandoned High School In Flint
WARNING: Under no circumstances should you enter this property. By doing so you risk bodily harm and/or prosecution for trespassing on private property.
A rare find if you're in the Flint area.
Check Out All 17 Roller Coasters at Cedar Point
Cedar Point has 17 roller coasters in the park the whole family can enjoy. From fast to friendly, how many have you been on?
See Genesee County, Michigan's Most Famous Historic Places
These Genesee County buildings are part of the National Historic Places Registry