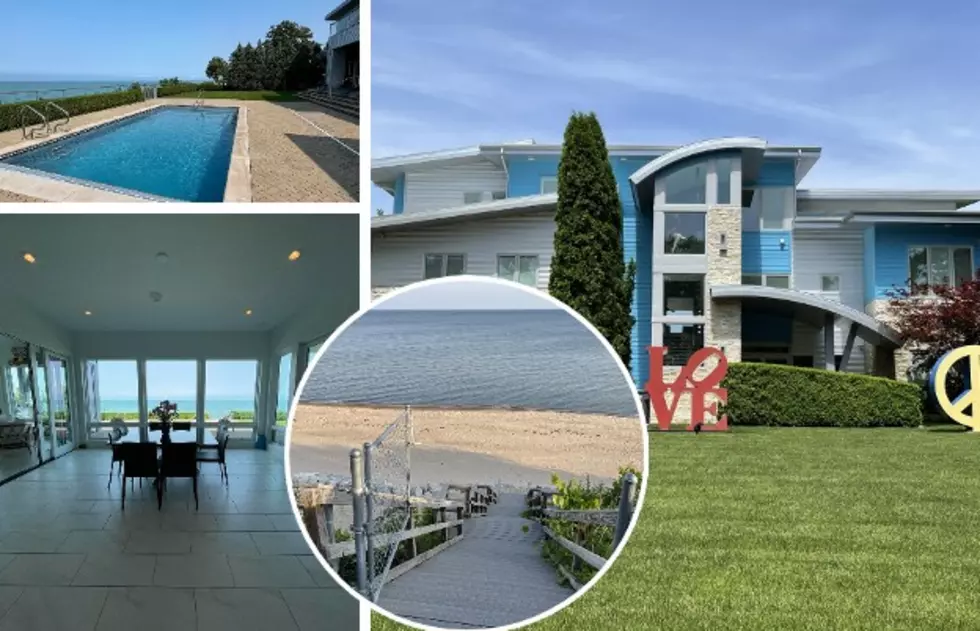 'Peace And Love' Michigan Lakefront Home Is One Of A Kind
Redfin
A one-of-a-kind beachfront home is on the market for the first time ever. This particular home known as the Peace & Love House sits on beautiful Lake Michigan and even has a pool.
If you associate peace and love with tye-die and lava lamps, think again. This home may feature a giant peace and love sign in the yard, but what you will find inside is a spacious 6-bedroom home that can only be described as a paradise with a relaxed modern beach vibe.
This one-of-a-kind home is located on Marquette Drive in New Buffalo, Michigan. Just wait until you see the views. From just about every spacious room in the house, the view is nothing but blue sky and gorgeous blue water.
Additional features of the Peace & Love House include,
Eight bathrooms
Wine room
Gym
Three laundry rooms
Open kitchen
Wet bar
Spacious outdoor entertaining area
Great room
Two home offices
Four car garage
Elevator
Did I mention the house is over 7000 square feet? No wonder there is an elevator.
The house was built in 2013 and this is the first time it has been on the market. With that being said, I am guessing you are curious as to how much an amazing house like this is listed for - good question. The house is on the market for $6,950,000.
That may sound steep, but just wait until you see this place. This home is certainly unique and super private. A total dream house - please enjoy the free photo tour of the Peace & Love House below.
'Peace And Love' Michigan Lakefront Home Is One Of A Kind
Under $500K For This Lakefront Waterford Party House
Entrelagos - The Jumanji House
Michigan 'Smurf House' Is One Of A Kind
Located in West Bloomfield, this over $4 million dollar home features a blue roof, lake frontage, and a golf course.