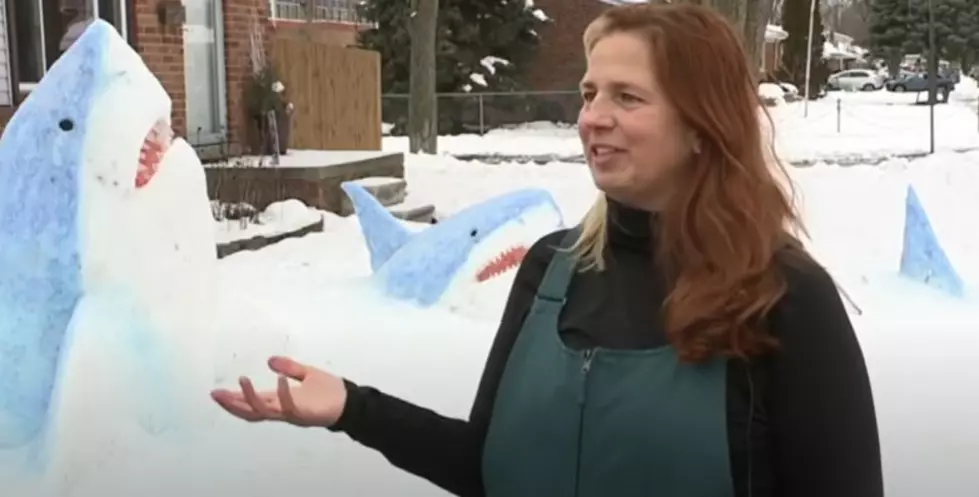 Michigan Teacher Creates Sharks Out Of Snow, Goes Viral
13 News Now via YouTube
A lot of people complain about the snow, but some people enjoy it - or at least try to make the most of it.
Case in point, Madison Heights resident Jennifer Ramirez. The highly talented school teacher did not just make the most of the snow in her front yard - she made sharks out of it.
Since posting pictures on her Facebook page of the snow sharks, the land sharks and Jennifer have both gone viral. To date, her snow shark photos have over 26,000 shares, and Ramirez and the sharks have been featured on countless news programs (videos below).
According to WXYZ in Detroit, the sharks took the talented artist and teacher three days to complete. You can see the process from beginning to end in the photo gallery below.
The entire project really is quite impressive. Wait until you see the detail in the teeth. If you are curious about how she colored the sharks, Jennifer used food coloring and water in a spray bottle. It's all in the details my friend.
Perhaps you too will be inspired to create something out of snow on your lawn, and spread some joy throughout your neighborhood. It really is refreshing to see something on social media that is actually bringing people together in a positive way.
If you do create a work of art like Jennifer Ramirez did with her snow sharks, be sure to send me some pictures.
Enjoy the photos and videos below featuring the sharks and Jennifer Ramirez too.
Michigan Snow Sharks