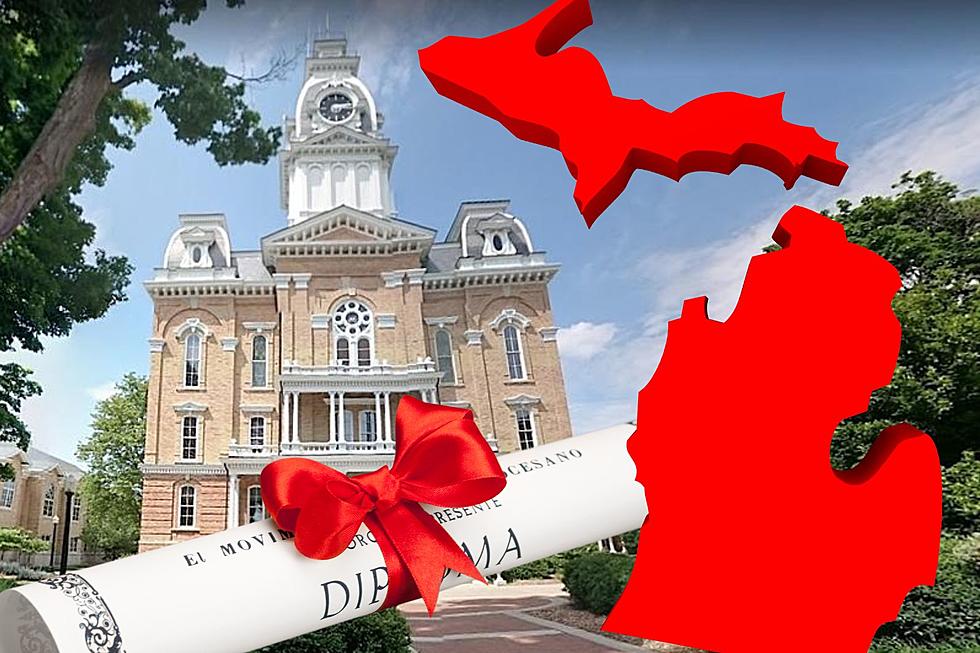 The 4 Most Conservative Universities in Michigan
Photos via Canva and Google Maps
For better of for worse, politics play a part for many students (and their parents) in deciding where to go to college.
A recent study published by the website InsideHigherEd.com revealed that "nearly one in four high school seniors said they passed up, out of political concerns, a college they would have initially considered because of its state."
The study found that a large percentage of liberal-leaning students wouldn't even consider universities in several southern states because of their conservative majorities. Conversely, conservative students often crossed California and New York colleges off their list of prospects just because of their liberal leans.
Michigan was among the states in that gray area - majorities of liberal- or conservative-leaning students didn't discount attending schools in the Mitten State because of its politics. That's not to say that politics doesn't factor into the decisions of some.
Wondering what the most conservative universities in Michigan are?
Four Michigan colleges are among the nation's 100 most conservative universities, according to the data-crunching website Niche.
4. Northwood University - Midland, Michigan
Northwood University in Midland is the 4th most conservative college in Michigan according to Niche, and the 99th most conservative college in the nation.
Among the school's reviews at US News & World Report:
Fantastic university which produces individuals ready for the workforce. Most professors have real world knowledge and experience. Not a liberal arts college trying to indoctrinate students.

 
 

NU is as conservative and white as you can get. The politics are in the education. Some might like that.
3. Spring Arbor University - Spring Arbor, Michigan
Spring Arbor University is the 3rd-most conservative college in Michigan according to Niche, and ranks 59th in the nation.
Reviews of the school on Niche from former students included:
Small Town University with Big City feel, while still maintaining the feelings of being at home with family and friends. Strong Christian based fundamentals are taught here.
I understand that Spring Arbor is a Christian university but they are exceptionally strict when it comes to parties or any thing of that nature. Even if you are of age, you are not allowed to go to clubs, casinos, drink or buy tobacco. Even if you are at home with your family and it gets back to the university that you broke one of these rules you can get in serious trouble.

 
2. Hillsdale College - Hillsdale, Michigan
Rated the 2nd-most conservative university in Michigan by Niche, Hillsdale College ranks 43rd in the nation.
A reviewer at US News & World Report cautions to take the school's conservative reputation lightly.
Don't be put off by the overly-political reputation that surrounds Hillsdale. Most students and professors are there to learn and teach and the political leanings are truly secondary to the actual college.
However, another alumni reviewer at Niche had a different experience:
If you do not have a religious background and religion is not a big part of your life, then Hillsdale is not the place for you. Religion is everywhere you go and it seems to be the thing that everybody wants to talk about.
1. Cornerstone University - Grand Rapids, Michigan
Cornerstone University not only ranks as the most conservative college in Michigan, it's #18 in the nation.
As is typical, opinions of the school vary depending on the viewpoint. See these reviews from Niche.
The campus is in a beautiful, safe environment with strong professors who have strong Christian applications to their lessons. There is also not a big party scene on campus but this makes for better connections with many students.
As a "Christian" university you'd tend to believe that they loved God more, but they have a huge misdirect about where their priorities lie. A couple of years ago they focused on Christ, but now all they focus on is a profit. If you go here, expect to be frustrated about 90% of the time, unless you are an athlete, then they will love you.
If Michigan Universities Were Girl Scout Cookies