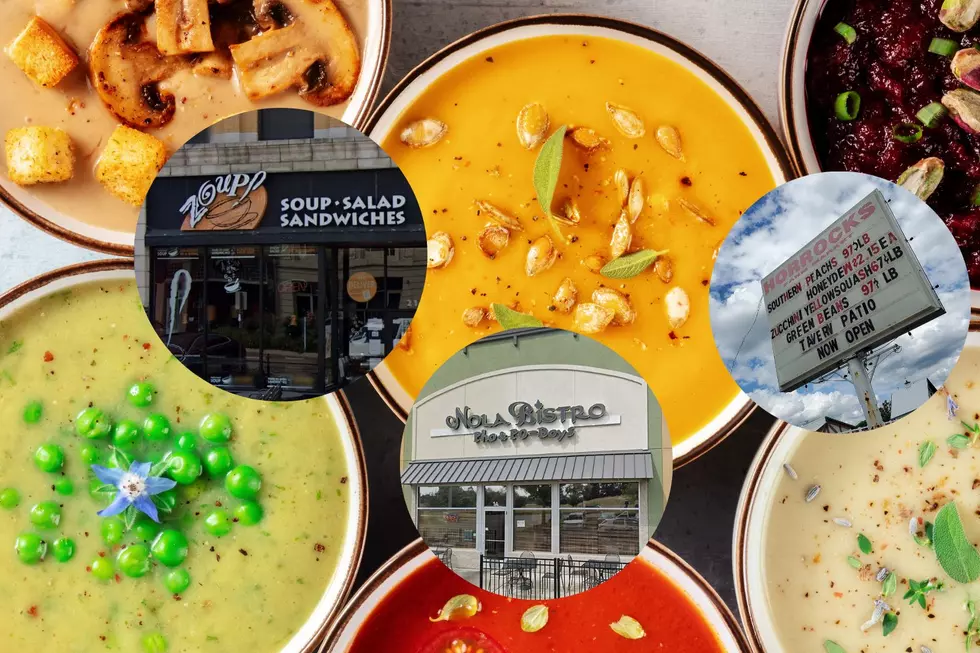 Lansing Restaurants with the Best Soup
Courtesy of McConnell Adams TSM Lansing, Google Streetview, and Canva
If the weather in Michigan has been any indication, it's time for soup and lots of it.
That's right, y'all...it's soup season!
Soup Season
Of course, soup season is not a "real" season in any sense of the term. It's more like a feeling or state of mind/being once the weather gets cold enough. You want something that's going to be warm and filling, and soup does the trick.
Lansing Restaurants with the Best Soup
What's awesome about Lansing is that you've got plenty of places to choose from when it comes to soup. To save you the trouble of wondering where you're going to get your next cup or bowl of soup, take a look at the list below. It contains some of Lansing's favorite places to get soup. And don't forget the crackers!
Order the beef barley soup.
Horrocks offers a soup buffet that serves an ever-changing variety to choose from. They offer over 15 hot soups daily, including broccoli & cheese, chicken pot pie, lobster bisque, and plenty more. You can check out their rotating listing on Facebook.
If we're talking about soup in Lansing, we can't forget the restaurant that literally has soup as part of its namesake. There are always six soups to choose from. They always have chicken noodle, seafood chowder, and French onion on the menu, along with seasonal offerings.
Need some top-notch ramen? Ruckus Ramen on Lansing's eastside is the place to go. Try the green curry ramen.
The chicken noodle soup is always on point.
The chicken soup is also awesome here.
Of course, Zoup has plenty of variety if you're unsure of what you want that day. Plus they've got salads and sandwiches to go with you.
The beef soup is highly recommended.
Monticello's has a small assortment of fresh soup available every day, about 3 or 4 varieties. The chicken and dumplings are delicious.
Get the French onion soup.
Lansing Area Restaurants That Serve the Best Olive Burgers
The olive burger is a Lansing staple. There's just something about that combination of green olives and mayo atop a burger that makes Lansing residents salivate. Check out the list below to find out which restaurants are serving up this famous burger.
Gallery Credit: Kristen Matthews
Lansing Area Bars and Restaurants That Serve Amazing Mocktails
Whether you are a pregnant person, a sober person, an underage person, or just a person who doesn't feel like drinking alcohol at the moment, there's got to be something out there for us, right? That's when I discovered the beauty of a mocktail. If you don't drink alcohol, for whatever reason, there are some fantastic restaurants and bars in Lansing that serve up more than pop and lemonade. Check out these spots that have amazing mocktails.
Gallery Credit: Kristen Matthews
Recipes From Gravestones
Some people hold some recipes so close to the chest that they take them to the grave, literally. Here are some recipes that can be found on gravestones, with ingredients and instructions included.
Gallery Credit: Kristen Matthews