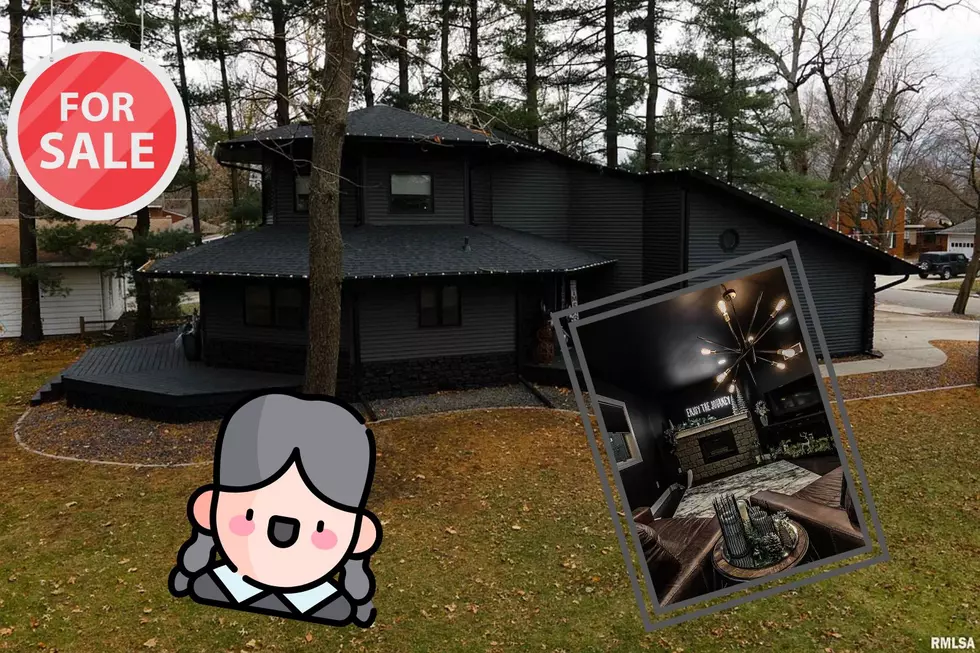 Black House For Sale in the Midwest is a Gothic Dream [GALLERY]
Courtesy of Seth A Goodman ME Realty and Canva Pro
Watch out, Addams Family, here comes a gorgeous black house for sale in the Midwest.
Truly, this looks like a house the Wednesday Addams would want to live in, minus the cobwebs and spiders. This house for sale in Lincoln, Illinois is absolutely gorgeous and sophisticated while also being mysterious and perhaps a little bit spooky.
All Black House For Sale
As you can see from the exterior, it is all black.
From the siding to the decking to the roof and everything in between, this house is draped in black. And it's not just the outside that comes in all black, the inside has its fair share of black too, along with some white and grey accents.
This is actually the second time this house has been on the market in the last few years. Since its last time being for sale, there have been numerous improvements and projects.
The Zillow listing boasts updates on the "siding, gutters, roof, landscaping, total bath rebuilds, countertops" and much much more. And these upgrades are in addition to other fine details, like cathedral ceilings in the master bedroom loft, a gas log fireplace, French doors, and more.
This house is super cool. In addition to being clad in almost all black, the house is also in the shape of an octagon, so there are no square rooms. The architecture and the style are so unique, they really make this house stand out in a sea of "regular" houses. If you're interested in this gothic two-bedroom house, it's for sale for $315,000. Check out all the neat pictures in the gallery below.
All Black Octagon-Shaped Home For Sale Again
If black is your color, this might be the home for you. What makes it unique is not only the color (black, inside and out) but the shape as well. It's shaped like an octagon, and there are no square rooms to be found. Check it out for yourself.
Historic Queen Anne Victorian House For Sale in Owosso, Michigan
If you're in the market for a home that has plenty of space and a whole lot of character, look no further. This stunning Victorian home for sale in Owosso, Michigan could be yours for less than $400K. Take a look through the pictures below.
Gorgeous Spanish-Style Home for Sale in Benton Harbor, Michigan
When it comes to interesting retro real estate, this Benton Harbor House takes the cake. All you have to do is take a look at the pink kitchen or the green bathroom and you'll step straight into a stylish time machine. Check out the pictures of the gorgeous home below.