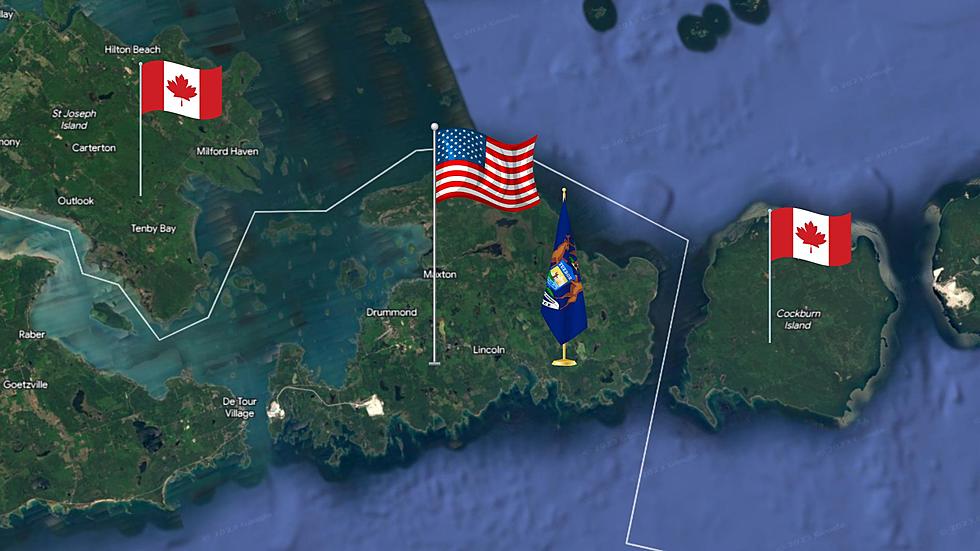 Why is Drummond Island Part of Michigan, and Not Canada?
Canva
As I'm still discovering things about Michigan, I often get drawn to the Upper Peninsula, since... it's probably the state's most unique quality. NO other U.S. State is split up into two separate bodies of land, connected by other bordering states. (Hawaii doesn't count). But when you really break it down, that part of the Great Lakes gets kind of messy.
There's a lot of islands "floating" around in Lakes Superior, Michigan, and Huron. So how did Michigan, The United States, and Canada decide who gets what islands? Specifically... WHY is Drummond Island part of Michigan, and Not Canada?
It's odd, looking at a map, to see a string of islands trailing off the tip of the Upper Peninsula into Lake Huron, but only ONE of those islands is part of the United States and Michigan... and it's not even the FIRST island in the chain.
To its northwest is St. Joseph Island, which belongs to Canada, and to its east, is Cockburn Island, which is ALSO part of Canada.
Drummond Island cuts a little notch out of the island chain, and connects to the "mainland" parts of Chippewa County in the Upper Peninsula. Drummond Island is only connected to the rest of the state by ONE bridge via Michigan State Highway 134.
Why isn't it part of Canada?
After the War of 1812, negotiators with the United States and Great Britain agreed there would be NO territorial concessions to either side of the border, and returned to those set by the Treaty of Paris in 1783. Two teams of Surveyors from both the British and American sides, mapped the area of St. Joseph, Drummond, and Lesser and Greater Manitou Islands (which is now Cockburn and Manitoulin Islands).
Based on those surveys, which were finished in the early 1820s, a boundary was established that would NOT divide any of the islands, but rather weave between them, and evenly distribute the islands to either side. As such, St. Joseph and Cockburn Islands went to Canada, and Michigan and the U.S. got Drummond and Manitoulin Islands.
However, the U.S. ceded Manitoulin Island BACK to the British (eventually Canada) in 1836, and to this day, we are left with the single island in the chain on Lake Huron.
So that's how Michigan managed to carve out one little island on the Manitoulin Island Chain for itself. It may not look like much... but it's ours.
Do we really need it? Well, I can't answer that myself, but I will say this... in the event of a zombie apocalypse, the nearly 1,000 residents of Drummond Township only need to block one bridge to stay safe.
200 Square Food Shed That's Not a Cabin on Bois Blanc Island, Michigan
The township says this shed is not a cabin. Judge the photos for yourself is this property, listed at $26,000, is being lived in.
The Only House For Sale on Mackinac Island for Less Than $1,000,000
This house has a garage, but you can't park your car in it. See the only standalone dwelling on Mackinac Island for sale with a price tag of less than $1M.