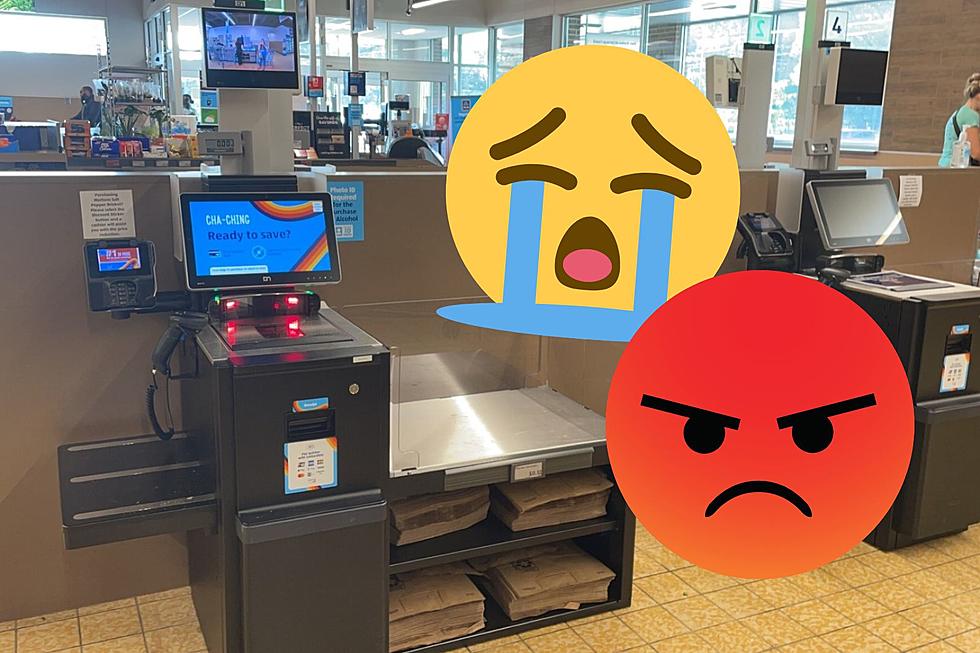 Self-Checkout Hits West Michigan Aldi Stores And I Am Not Okay
Lauren G/TSM
It nearly happened overnight and I can't come to terms with it. When was the last time you were at Aldi?
Don't get me wrong, when it comes to big box grocers Meijer is number one in my heart-- and always will be! However, for quick trips and the day-to-day shopping I'm an Aldi girl through and through. Which is why this news is so heartbreaking!
Located right down the road from our stations in Kalamazoo is the Gull Road Aldi store. I love to swing by for a few items on my way home or I've been known to run over on my lunch hour to grab something quick-- and quick it is! It's fast, it's convenient, it's clean-- what more could you want?
Then the change happened.
It couldn't have been more than a week since I'd last been inside the Aldi on Gull Road, so imagine my surprise when I stopped in on Monday August 28 and noticed some glaring changes.
Nearly three or four checkout lanes had been ripped out and replaced by at least 5 self-checkout lanes. When? Why? I have so many questions.
It seems the Covid-19 pandemic was the final push retailers needed to do away with human cashiers; national retailers such as Dollar General, McDonalds, Meijer, and now Aldi are pushing self-checkout on shoppers.
In a recent Tweet the German-based retailer explained,
[while] We can't confirm if your specific store will receive self-checkout...ALDI is rolling out the offering to new stores every week.
Although self-checkout is nothing new, the fact that Aldi has implemented this new setup is perplexing to me. The chain is well-known for their lightning fast cashiers; it's almost comical how fast they fling your items into your cart. Why would I do it myself when Aldi's cashiers do it better than I ever could?!
Aldi is a company that prides themselves on efficiency, which is ironic considering the employee on Gull Road had to leave their post twice to go help self-checkout customers before they were even able to start with my cart! Who does Aldi think they are-- Meijer?!
To make matters worse this employee, who wishes to remain anonymous, then told me nearly half the staff at the Gull Road store were set to lose their job within the next month. Is self-checkout to blame?
Again, I know this concept is nothing new but in Aldi of all places?! Too far. I haven't been to any of the other Aldi stores across Kalamazoo and the greater West Michigan area to confirm if self-checkout has infiltrated those stores too, but I'm sure it's only a matter of time.
End rant.
The First Meijer Store and Meijer Memorabilia
Charming, Up North Michigan Grocery Store Could Be Yours for Under $1M
Morrison's Market has been family owned & operated for 69 years. Now, retirement means passing the torch to a new owner ready to serve Hillman, MI.