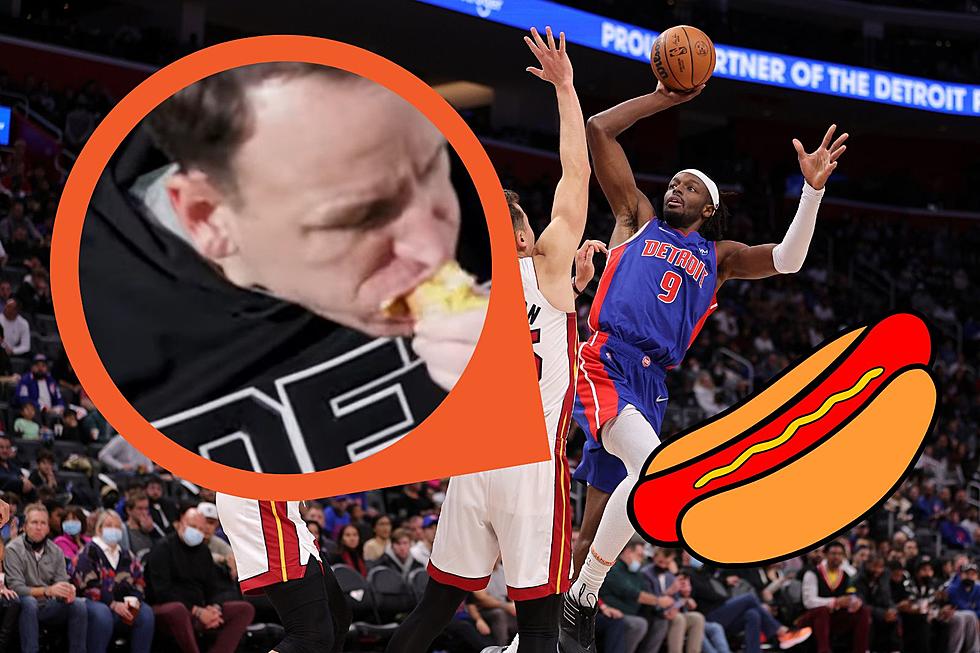 Remember When Joey Chestnut Chowed Down on Coney Dogs in Detroit for Charity?
PistonsTV via YouTube/Getty Images/Canva
Ever wonder what competitive eater Joey Chestnut does when he's not competing in the annual Nathan's Fourth of July Hot Dog Eating Contest?
Well, he's eating of course!
In case you missed Tuesday night's Pistons game against the Miami Heat, infamous competitive eater Joey Chestnut made an appearance at Little Caesar's Arena in an effort to spread awareness about food insecurity in Southeast Michigan.
Who is Joey Chestnut?
If you've never watched ESPN on the 4th of July or MTV's True Life: I'm a Competitive Eater episode, Joey Chestnut is a world-renowned competitive eater whose most notable claim to fame is being a 15-time winner of the annual Nathan's Fourth of July Hot Dog Eating Contest on New York's Coney Island.
A resident of Indiana, in addition to winning 15 "mustard belts", Major League Eating claims Chestnut holds " 55 World Records across 55 disciplines" including:
182 chicken wings in 30 minutes
45 pulled pork sandwiches in 10 minutes
53 soft beef Taco Bell tacos in 10 minutes
141 Hard Boiled Eggs in 8 Minutes
So What Was He Eating at the Pistons Game?
The answer should be obvious-- Coney dogs, of course!
Chestnut competed against 2 Detroit Pistons employees in a Coney dog eating contest. According to The Detroit News, Novi-based company Lineage Logistics pledged to donate $1,000 to mobile-food rescue organization Forgotten Harvest for every Coney dog consumed.
In the span of one minute, Chestnut was able to down 11 Coney dogs. Between the three competitors combined a total of $25,000 was raised. Forgotten Harvest will use those funds to donate food to local charities throughout Metro Detroit.
It's not the most glamorous thing to watch, but at least it was for a good cause! Watch the competition below:
Michigan Man Shares His Competitive Eating Challenges
Nathan Klein of Battle Creek, Michigan, has completed over 130 food challenges
7 Must-See Spring Destinations in Michigan
It's been a long winter in Michigan. Now that we're thawing out, here are the best places to visit in Michigan during springtime.