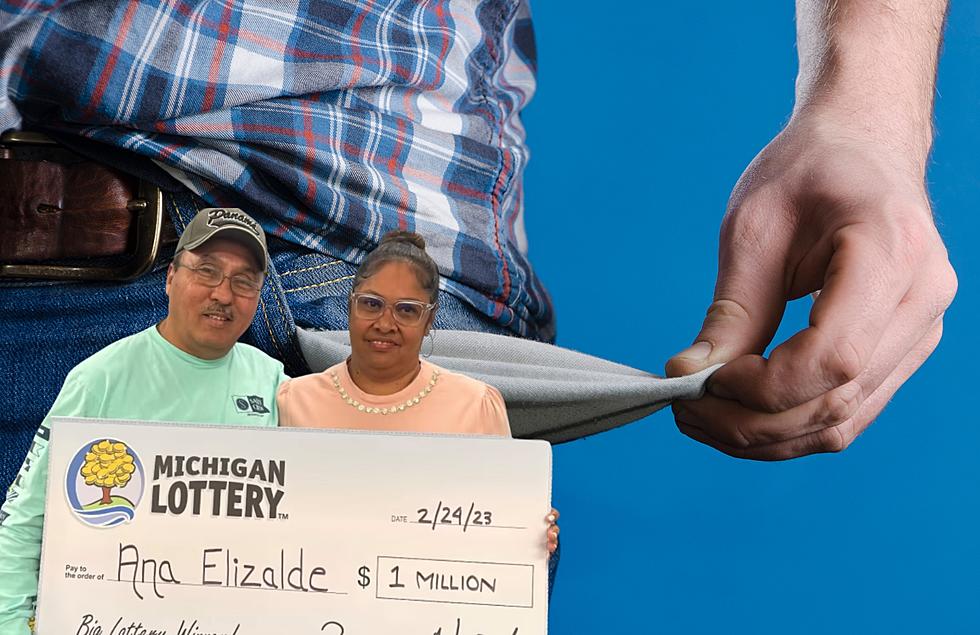 Michigan Couple Wins $1,000,000 After Finding Lotto Ticket In Pocket
Credit: Michigan Lottery / Canva
If you were to check my coat pocket you might find an old receipt or some random dog treats for when I walk my dogs, Benny and Paddy.
A Michigan couple who checked their coat pocket found something out of a movie, they found a winning lottery ticket that was worth a million dollars
Michigan Couple Wins $1,000,000 After Finding Lotto Ticket In Pocket
Ana Elizalde and her husband said they always knew they would big playing the lottery.
Every week Ana would buy a Powerball ticket and give it to her husband to hold onto for safekeeping.
Recently they bought a Powerball ticket and put it in a coat pocket and forgot to check it.
A week after the drawing, Ana's husband found the Powerball ticket in his coat pocket and realized that he needed to see if they won anything.
Turns out it was a good thing he checked the coat pocket because inside of it was a winning Powerball ticket worth $1,000,000
Where Was The Winning Powerball Ticket Purchased?
Ana bought the winning ticket that matched the five white balls for the Feb. 6 drawing at Sav-Way Food Center on West Michigan Avenue In Lansing.
What Were The Winning Powerball Numbers?
The winning numbers for the February Powerball drawing were 05-11-22-23-69.
The Powerball number that Ana and her husband didn't match was 7.
If they had matched all the numbers they would have split the $754.6 million with the single winner in Washington
What Will They Do With The Money?
Ana her husband might have hit it big but they're not going to do anything crazy with the money.
They plan to spend the winnings on paying bills, their children's education, and save the rest.
Five Michiganians Whose Lives Were Ruined After Winning Big Lottery Jackpots
We all think winning the lottery would solve all of our problems. But you know what they say: "Be careful what you wish for."
Take a look at these five Michigan residents who won life-changing money from the Michigan Lottery. Unfortunately, all of their lives took a drastic turn for the worse after their wins.
How To Protect Yourself And Your Money If You Win The Lottery
Whether you've recently won the lottery (or are planning to!), there are some things you should do right away to protect not only yourself but also your money.
9 Michigan Lottery Retailers That Have Sold $1,000,000 Powerball Winners in 2022
Michigan hasn't had a Powerball jackpot winner in 2022, but we've come close a few times. Here are the 9 Michigan stores that have sold Powerball tickets worth $1,000,000 or more this year.