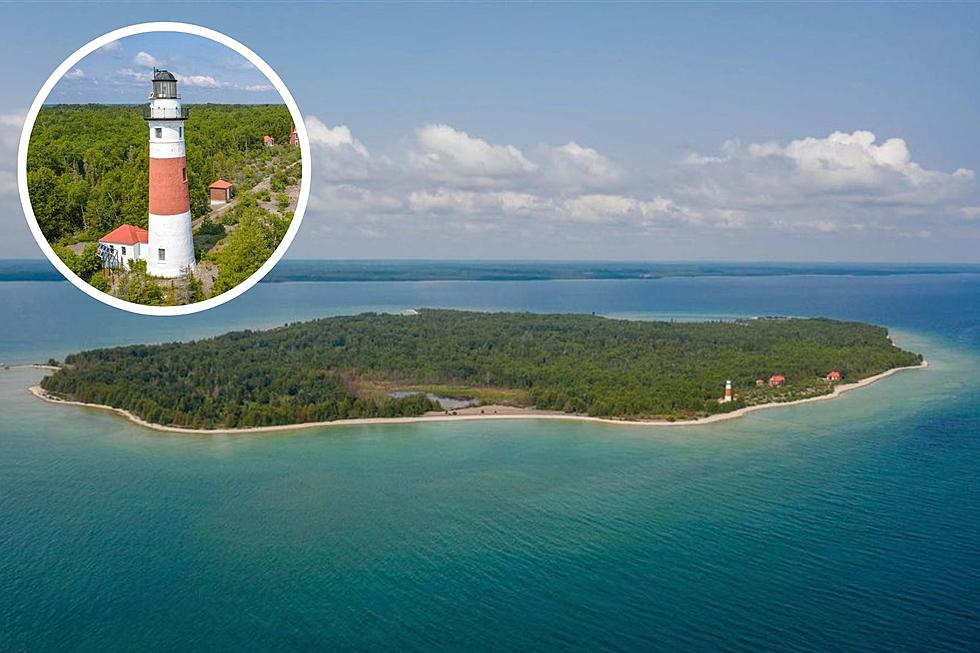 Private Paradise: You Could Own This Michigan Island with Historic Lighthouse
Nate Graham, Graham Real Estate
A beautiful, private island in Michigan? Sign. Me. Up.
Middle Island, a 227 acre island in Lake Huron is on the market!
It's called Middle Island because it's situated almost exactly midway between Thunder Bay Island and Presque Isle Harbor, off the coast of Alpena.
A working, historic lighthouse is included!
The Middle Island Light Station was built in 1905. It stands seventy-six-feet-tall, and the light has a 14-mile range. It's maintained by the Coast Guard. Check out that view!
According to the listing, "views from lighthouse are unobstructed 360 degrees above of Lake Huron."
As far as lodging, there's a Lighthouse keepers two-story red brick double dwelling with a new roof and 12 rooms at various stages of renovation - so yes, needs some work... but still, that's a lot of space!
In addition, the Fog Signal building has been converted into the lodge that sleeps 10.
Other cool features of the property are a 380-foot permanent break wall/dock, a hunting blind, and observation tower!
So how much are we talking for this private island paradise?
Middle Island is on the market for $3.9 million. Check out photos in the gallery below!
Michigan's Middle Island For Sale for $3.9M
Middle Island, a 227 acre island in Lake Huron north of Alpena, complete with working lighthouse, is
on the market
for $3,900,000.
Here are even more Michigan islands that have been on the market recently:
Private Island Paradise in Battle Creek Can Be Yours for $1.8M Boats & All
Island living in Michigan can be your reality with this Battle Creek 2 home package. On land, you'll have a lakeside 1000-square-foot home as "basecamp" complete with 6 car garage for storing all those water toys. Hop on one of your docked boats and head out to your own private 2.5-acre island to settle into your 5000-square-foot home for some island fun with plenty of room for guests. Inside awaits 4 bedrooms, 4 1/2 bathrooms, and plenty of space to entertain with gorgeous panoramic views from every room. The current owners are willing to sell turn-key with water toys and boats included. Take a look!
$8.5 Million Log Cabin Island Retreat in Michigan's Upper Peninsula
No, it's not Montana or even the set of "Yellowstone". This breathtaking million-dollar retreat is located in the Upper Peninsula of Michigan near the Wisconsin border and is everything a nature lover has dreamt of. With its 16 acres of wilderness and lakeside beauty, any fisherman or someone looking to escape from it all would simply love it. Over 10,000 square feet of space with 7 bedrooms and 9 bathrooms, this log home Island family retreat on the famous Cisco Chain of Lakes is meant for large family get-togethers and big gatherings.
Take a look at what tranquility and heaven on earth really look like.
You Can Own Your Own Island for Less Than $1 Million in Eau Claire
A private island, with a home included, is now listed for sale in Eau Claire, Michigan
Frying Pan Island for Sale in Michigan's Upper Peninsula
For $580,000 you could own Frying Pan Island, a 3-acre island that sits in Michigan's Upper Peninsula.