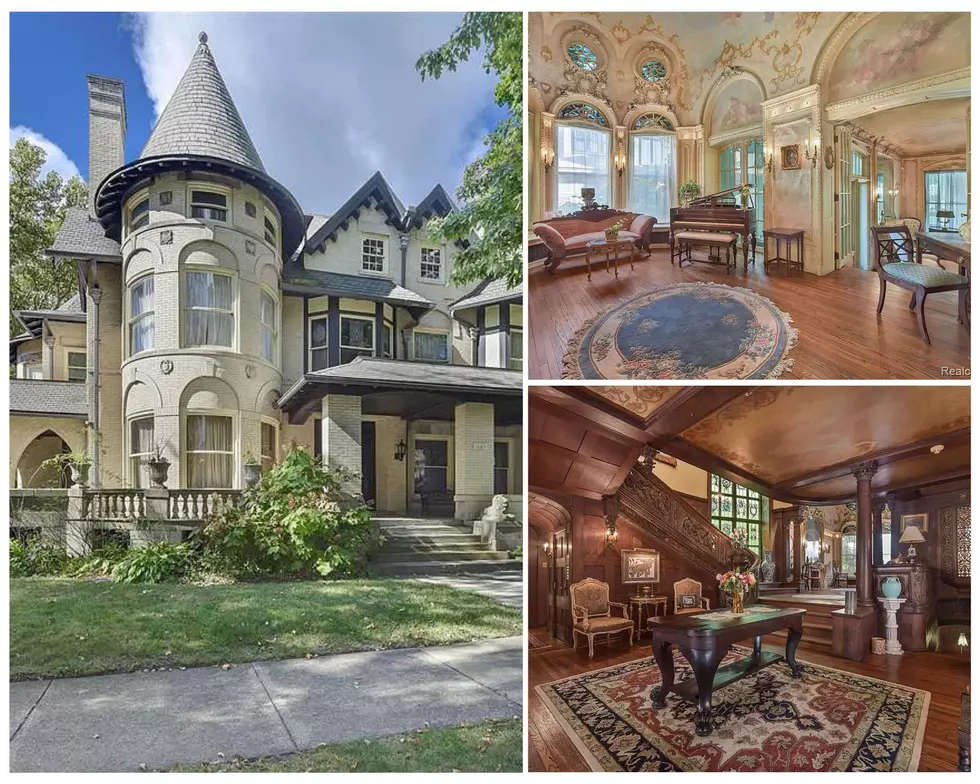 Michigan Castle for Sale Has the Most STUNNING Woodwork and Ceilings
Matt O'Laughlin Real Estate
A Michigan mansion designed by a famous architect is for sale - and you gotta see inside!
I have never seen woodwork and ceilings inside a private residence like this...
The property at 1089 Iroquois in Detroit was designed by famous architect, Louis Kamper. Kamper emigrated from Germany in 1880 with his family. Historic Detroit describes him as a
"premier architect and designer among the wealthy in Detroit... In 1913, Kamper's career took a turn toward a more unusual project, when he won the commission for the Roseland Park Mausoleum at Roseland Cemetery in Berkley, Mich. When it was dedicated in 1914, it was the largest public mausoleum in the U.S. This commission started a succession of projects that would place Kamper in the architectural pantheon of Detroit.
According to the listing, the home, built in 1906, "may very well be the most unique residential masterpiece in the City."
You'll see different architectural styles throughout the main floor.
The seven bedrooms with four full and three half baths in the main house, plus the three-bedroom carriage house apartment give this property a total of 10 bedrooms!
The main house has some really unique gathering spaces, including the opulent 20-foot high Music Room with muraled domed ceiling along with elaborate plaster work and painted windows.
Other Intricate and spectacular finishes throughout the home include rich hand-hewn woodwork, marble mosaics, custom hand-cut beveled glass, and more.
Take a tour in of this Indian Village Romanesque Revival masterpiece in the gallery below!
Famed Architect, Louis Kamper-Designed Castle for Sale in Detroit for $1.2M
A magnificent mansion in Detroit designed by Louis Kamper and built in 1906 has
hit the market
for $1.2 million. Boasting 25 rooms, unique features of the home include intricate woodwork, hand-painted decorative ceilings, marble mosaics, custom hand-cut beveled glass, and more.
Own a Piece of History with Magnificent Michigan Lakeside Castle
A stone castle with 113 feet of lakefront property has
hit the market
in Saint Clair Shores, Michigan, for $850K.
The unique, five-bedroom, four-bathroom, 4,000 square foot home was originally built in 1926. The property boasts terrazzo flooring throughout the main level, and hardwood floors on the second. Other features include stunning views of Lake St. Clair, a widows walk, turret, Juliet balconies, multiple fireplaces, boathouse, and a 700 square-foot carriage house.
Massive Michigan Castle for Sale for $2.5M
Want to be king or queen of your own castle? Well, a five-bedroom, seven-bathroom, 6,106 square-foot castle is up for sale in Rochester, Mich., for $2.5M. The residence sits on 6+ acres, surrounded by a wrought iron fence and two gated towers.
According to the
listing
,"The frame is built with 60 tons of steel and construction took over 6 years utilizing artisans from all over the world. The castle is 60 feet tall, or taller than a 4 story building. It features a moat, waterfall, drawbridge, portcullis, 26 rooms, elevator, 5 fireplaces, 6 new furnaces, 6 new A/C units, secret rooms, hidden doors, hidden passageways, hidden staircase, wine cellar, Tudor style pub, and a few more surprises... "