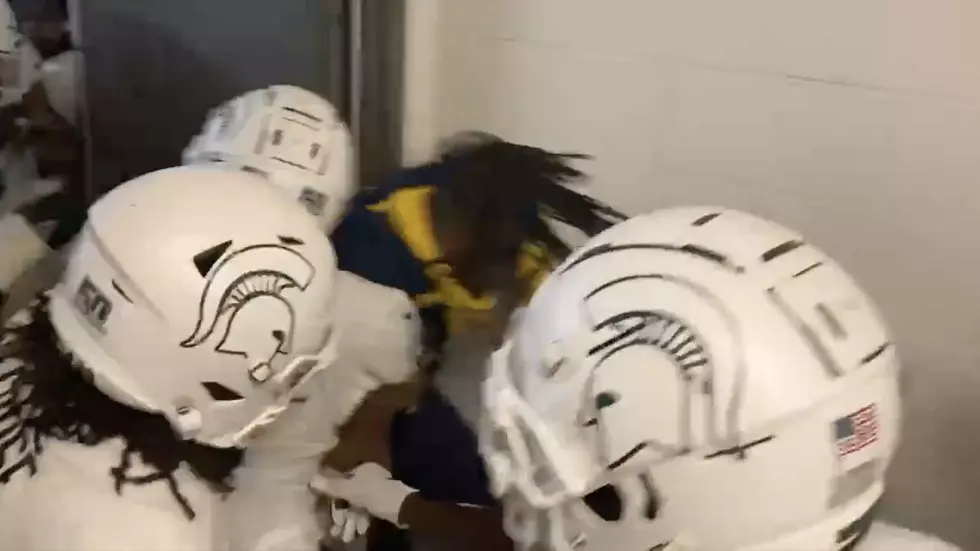 'Inexcusable and Criminal,' Cries Fanbase That Defended Juwan Howard and Bo Schembechler
Screenshit via Matt Charbonneau on Twitter
As if Michigan State's loss at Michigan wasn't hard enough to watch, what transpired afterward was even worse.
When adults resort to violence, I'm generally embarrassed. Embarrassed for all of us, as a species. I'm reminded of this quote from David Friedman: "The direct use of force is such a poor solution to any problem, it is generally employed only by small children and large nations."
I felt the same way when I saw videos of what happened in the tunnel after MSU lost at Michigan.
Full disclosure: I'm not one of those people who gets hung up on all the BS buzzwords so many pretend to care about in sports. Sportsmanship, class, integrity, etc. Truth is no one really cares about any of that, and all you need as proof is to think about whether you've ever heard sports fans talking about those things as it pertains to their favorite team. Go ahead and think it over. Notice how all those supposedly precious scruples are only ever brought up when someone is criticizing another team for lacking them?
The point I'm getting at is that the performative pearl-clutching Michigan fans and media (many times, they're one and the same), as well as Jim Harbaugh's masterclass in thespianism, is a little much. Even for Michigan's standards.
Keep in mind that those who are most full-throatedly calling for harsh and swift consequences for the MSU players involved in Saturday night's tunnel fight are just a handful of months removed from apologizing and making excuses for Juwan Howard, a 49-year-old man paid millions of dollars to be a role model to young men (ha!), after he outright struck an opposing basketball coach on the sideline and attempted to rumble with others.
Those same people who are seriously advocating for criminal prosecution of Spartan players who brawled in the Big House tunnel have not just resisted but outright denied the Michigan football program's culpability and Bo Schembechler's enablement of Dr. Robert Anderson as he sexually assaulted hundreds of young people for decades at U-M, which included Wolverine football players.
RELATED: How Can The MSU-Michigan Rivalry Ever Go Back?
"I'm coming at this from a perspective of being a parent," Harbaugh said Monday at his weekly press conference. "And these young men are entrusted to me by their families, and to our program, and we have the responsibility to each player to treat them like our own, and I take that responsibility very seriously."
Harbaugh does take that seriously when there's an opportunity for Michigan to take advantage, that's for sure. But taking care of the kids goes out the window when it comes to protecting the brand and Bo's legacy, as proven by the victim-shaming the U-M apparatus — Harbaugh included — put Anderson's victims through, including former Michigan football players whose pleas for help were coldly dismissed by Schembechler.
This is what Michigan does. U-M antagonizes and engages in plenty of hijinks unbecoming of their professed moral superiority. But when someone takes their bait, U-M gaslights in a manner that would make cult leaders blush and plays the ultimate victim. Michigan has been involved in more than their fair share of dust-ups since Harbaugh took over in Ann Arbor in 2015, and yet every single time it's U-M who's the aggrieved.
And frankly, that's what I'm most disappointed in from this whole episode, that Michigan State took that bait. The MSU players involved in the tunnel fight did exactly what Michigan wanted by giving U-M added runway to leverage its bought-and-paid-for megaphone, the Detroit media, to parrot its disingenuous, dishonest, completely premeditated narrative of innocent victimhood.
Saturday night, Harbaugh said two of his players were "jumped" by a double-digit contingent of Spartans. All video released thus far has disproven that. Harbaugh said Monday that ABC/ESPN has full footage from one of their own cameras in the tunnel that validates his claims and "shows everything." That footage has since been released and, whaddya know, it's not at all what Harbaugh described.
MSU's involvement here is especially upsetting because you know Mel Tucker has explicitly warned his players against engaging U-M in these instances. On Saturday, several Spartans decided not to heed his advice. It earned them an immediate suspension, and may yet earn them a kangaroo-court-style dismissal or even criminal charges.
Regardless of what happens from here on out, we know Michigan won't change. The proof is in the pudding: Several incidents in that same tunnel with other teams over the last year; Devin Bush scuffing up the logo at Spartan Stadium in 2018 and having to be restrained while threatening a female employee of MSU's turf management team who was cleaning up after his mess; the 2018 Michigan football vandalizing the visitor locker room at Spartan Stadium; Jabrill Peppers punching an Ohio State fan; Mike Morris choking Kenneth Walker III after a tackle; etc.
Like it or not, there's a different set of rules for Michigan than there is for MSU. It's on State to be above this kind of stuff — it always has been.
7 Ways To Get the Michigan-MSU Rivalry Back Under Control
Tunnelgate has cast a dark cloud over the already-pernicious MSU-Michigan rivalry. Here are seven ideas to preserve our intrastate college football tradition without completely losing ourselves to the toxicity.
Michigan Scandals, Controversies, and Embarassments During Warde Manuel's Tenure as Athletic Director
Michigan athletics has been engulfed by multiple scandals, controversies, and embarassments over the last two years, all occurring on athletic director Warde Manuel's watch.
As the issues continue to mount, and Manuel continues to be practically invisible to the media and public, it's a wonder Manuel hasn't been fired already.