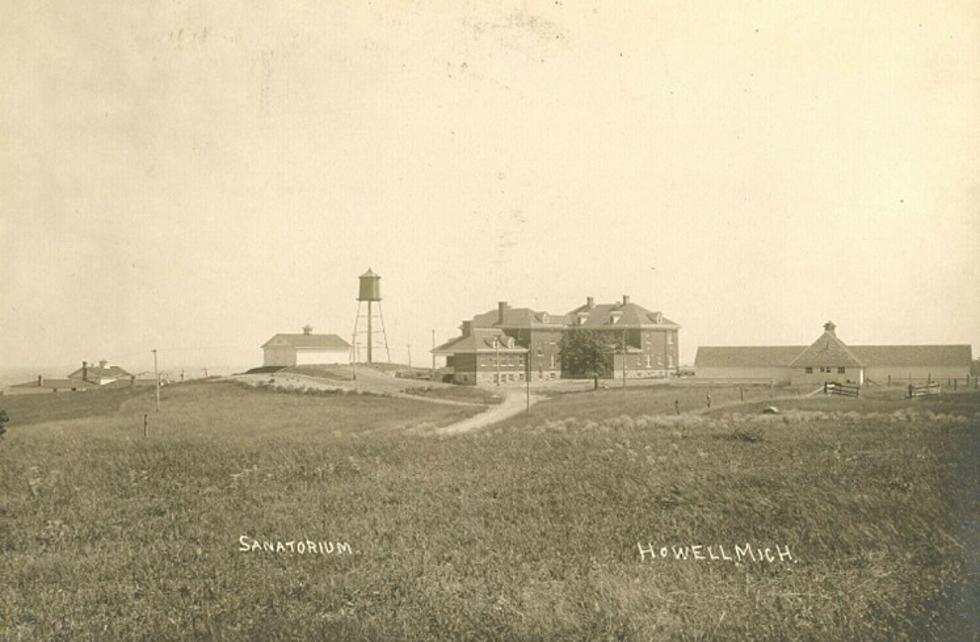 High on a Hill Once Stood the Old Howell Sanitarium: 1907-1982
available @ worthpoint.com
Any time the mention of a former sanitarium, asylum, or mental hospital is brought up, a certain wave of trepidation encompasses most people. And yeah, it's also the case with the old Howell Sanitorium, also known as Hillcrest, Michigan State Sanatorium, and Howell State Hospital (by the way, the terms "sanatorium" and "sanitarium" are interchangeable and I spell it both ways in this article).
The buildings stood on top of a hill, now known as High Hillcrest Drive. The asylum structures were torn down in the late 1980s (much to the disappointment of thrill-seekers and ghost hunters) and the property was purchased by land developers.
The point of the asylum was to care for tuberculosis sufferers and in 1906 the hilltop in Howell was chosen as the site. It didn't take long to complete, for by 1907 the asylum was open for business, charging seven dollars a week. Doors opened on September 7, letting in just two patients. Throughout the 1910s and 1920s, more construction turned the facility into a sanitarium with 500 beds. There were also men's and women's shacks, special cottages for kids, laundry, and boarding for employees.
What else? How about an apple orchard, convenience (now called 'party') store, nearby doctors offices for emergencies, and post office.
The sanatorium's popularity spread throughout the country and people from most all other states were being admitted. When the tuberculosis rate began dropping off in the 1950s, the asylum began accepting mentally impaired patients. By the early 60s the name was changed to the Howell State Hospital, dropping references to the word 'asylum'.
In 1978 it went through another name change to Hillcrest Regional Center; it lasted four years under that name until it closed in 1982 due to lack of funding. Three years later, all buildings were demolished. Nowadays, there are a smattering of high-class residences, a far cry from the days of the sanitarium.
Is the land currently haunted?
Some former patients claimed so, as well as visitors.
The gallery below takes you back to the early 1900s so you can see what the place was like in its heyday. It's just a shame it wasn't preserved for historical purposes...but the 'ghost' of Howell Sanatorium will remain.
Howell Sanitarium, Early 1900s
MORE INTERESTING MICHIGAN STUFF!
Abandoned Ranch/Mansion Near Howell
Vintage Photos of Ann Arbor
Bill Knapp's Michigan Gravesite