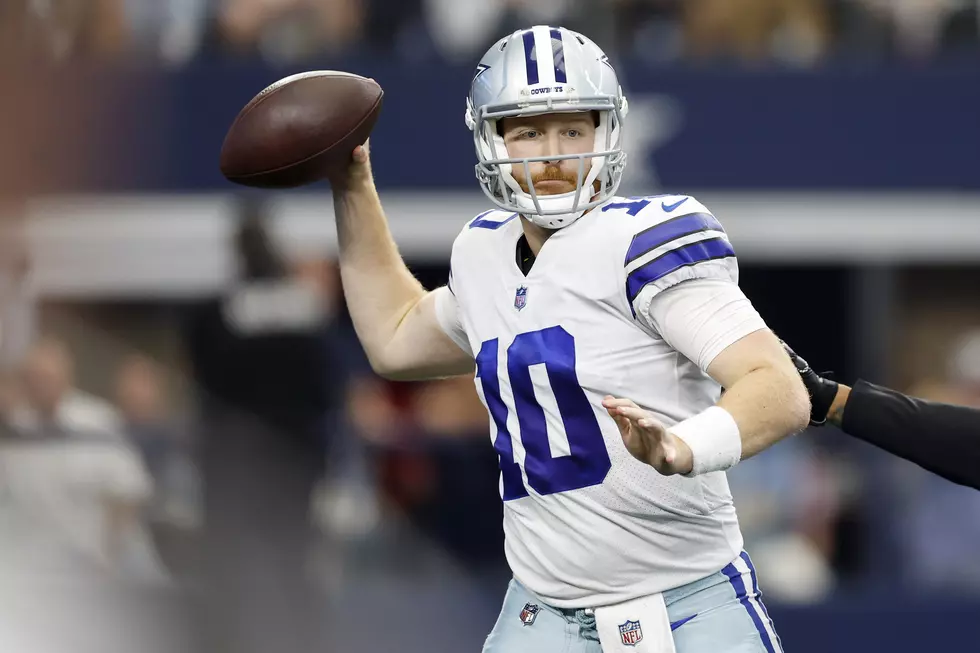 Former CMU QB Cooper Rush Sets Dallas Cowboy Record
Getty Images
The history of quarterbacks for the Dallas Cowboys includes Hall of Famer Troy Aikman and CBS announcer Tony Romo, but none of them achieved what Cooper Rush did on Sunday.
Rush, On In Relief Of Starter Dak Prescott Did Something No Previous Cowboy QB Has
The former CMU great Cooper Rush became the first Dallas Cowboy quarterback to win his first four games as a starter. And that includes every QB in Dallas history from Dandy Don Meredith to Roger Staubach to Aikman and Romo. That's quite a list.
Rush led the Cowboys to a 25-10 victory over the Washington Commanders to earn his third straight win since taking over the staring reins from Dak Prescott, who went down with an injury in week one. Add to that, a late season win in 2021 when the Cowboys rested their starters and its four straight wins as a starter for the Lansing native.
Rush Has Done One Thing And One Thing Only Since Re-Joining The Cowboys: WIN
Cooper Rush has continued to win. His winning streak is one of the more shocking things to happen this NFL season. If you'll remember, when Prescott injured his thumb in week 1, it looked like the Cowboys were toast – and might not make the playoffs.
Since then, all Rush has done is win and win and win. We'll see how long this goes as Prescott has hinted that he might try to return for next week's game against the Los Angeles Rams.
On Monday's Colin Cowherd Show, former Cowboy coach Jimmy Johnson praised Rush's performance in relief of Prescott this season.
"He knows how to be successful in the NFL...he knows his role...and that is to put the ball into the hands of his playmakers and let the defense win the games, don't try to be cute, don't try to be pretty, just get the job done," Johnson told Cowherd below. Pretty good praise from a Hall of Fame coach.
Rush Not The First CMU Star To Excel For The Cowboys
Cooper Rush s not the first ex-Chippewa to lead the Cowboys through a tough time. Northview's Gary Hogeboom performed a similar role as a back up to Danny White in 1984 and 1985, helping the Cowboys to the playoffs in 1985.
Rush grew up in Lansing and was a three-star prospect out of high school at Lansing Catholic Central. His only Division I college offers were from Central Michigan and Toledo.
As a four year starter for the Chippewas, Rush threw for 90 touchdowns and over 12,000 yards before being signed as an undrafted free agent for the Cowboys in 2017, and was their backup quarterback until 2020 when he signed with the New York Giants. He was released by the Giants and resigned with Dallas in 2021.
He was involved in two great moments for the CMU Chippewas, both "Hail Mary!" passes for touchdowns.
The first was in the 2014 Bahamas Bowl, where after leading the team back from 35 points down, his long toss to Jessie Kroll was lateraled off to Courtney Williams, who then pitched it to Titus Davis who scored as time ran out. The two point conversion failed and the Chips lost to Western Kentucky,
In 2016, Rush tossed another last grasp pass to defeat Oklahoma State in a major upset,30-27, after the officials erroneously gave the Chips a free play. Again Kroll was Rush' target, and Kroll again lateraled it to Corey Willis who took it in.
Take a Look at 17 Notable CMU Alumni You May Recognize
Alumni from Central Michigan University have taken all walks of life. Government officials, athletes, pornstars, and domestic terrorists.