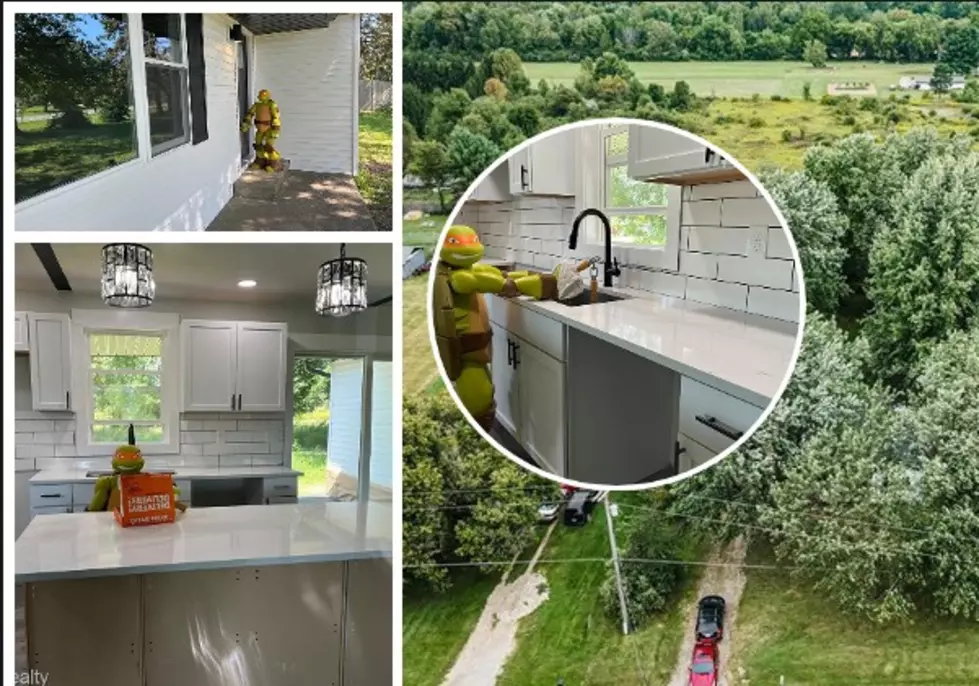 Flint Home For Sale Is Teenage Mutant Ninja Turtle Approved
Tall Oaks Realty/Redfin
This should be an easy shell, I mean sell.
When it comes to selling real estate, these three words are most often heard,
Location, location, location
Something you don't hear is these four words,
Teenage Mutant Ninja Turtle
Until now. A Flint, Michigan home listing is getting a lot of attention after featuring Donatello, a Teenage Mutant Ninja Turtle in its Zillow listing. This is what you would call thinking out of the pizza box.
This is not the first time I have seen a Michigan home for sale featuring someone or something odd. Do you remember the woman featured in a bizarre Byron home listing?
We all know the phrase 'sex sells' - but do turtles? I have to admit the photos featuring Donatello are quite funny. If you do make an offer, maybe the owner(s) will throw the Teenage Mutant Ninja Turtle in to close the deal.
All kidding aside, the house is cool and sits on quite a bit of land, 3.17 acres to be exact. Additional features include,
3 bedrooms
2 bathrooms
Central air
The outside of the home is deceiving in terms of how large the interior of the house is. As you will see in the photo gallery below the home is really spacious. As a matter of fact, there is plenty of room to have Leonardo, Michelangelo, and Raphael move in too.
Grab a slice of pizza and take a look at what could be your new home.
Flint Home For Sale Features Teenage Mutant Ninja Turtle
Entrelagos - The Jumanji House
Enchanted Treehouse on Lake Michigan
There's treehouse rentals and then there's this place. Trees, beaches, and endless sunsets. You get it all with this unique treehouse stay.
This Southwest MI Airbnb Comes With the Coolest Indoor Pool House
This Airbnb in Bridgman, Michigan comes with an indoor pool and hot tub, a huge private yard, and isn't far from the casino, breweries, and more.