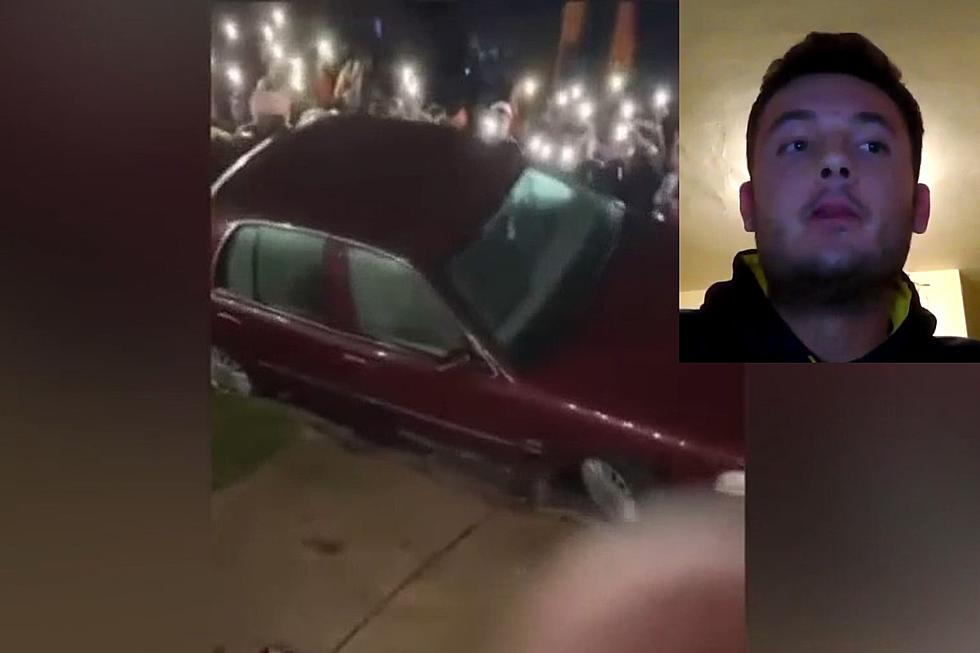 Donors Help U of M Student Whose Car Was Flipped Over in East Lansing
WXYZ
A University of Michigan student says he is "really grateful" to everyone who donated money to help replace the car that was flipped over in East Lansing in October.
Jack Borchanian drove his grandmother's car to East Lansing on October 30 to watch the Michigan-Michigan State game. Shortly after the Spartans won the game, chaos broke out near the campus, with rowdy students setting couches on fire and inflicting damage on the 2009 Mercury Grand Marquis that Borchanian had been entrusted with.
"It's not a fancy car, but it definitely holds some value in my family," Borchanian tells ABC-7. "It was really unfortunate to see it go like that."
Borchanian says he wasn't near the vehicle when looters smashed out the windows and flipped the vehicle onto its roof, but he saw videos of the aftermath that were posted to social media.
The junior from Northville then launched a GoFundMe page which caught the attention of MSU fans and alumni.
"People that I both knew and didn't know both donating and spreading the word, it really just kind of blew up fairly quickly," Borchanian said.
In about five days, the page raised enough money to cover the cost of the vehicle and the towing fee.
"It was really important to see support from the Spartan community like that, I'm really grateful," Borchanian said.
He went on to say that he's glad to see that students and alumni from a rival school acted in such a commendable manner and aren't willing to condone bad behavior.
Take a Peak at U of M Coach Jim Harbaugh's Million Dollar Estate
University of Michigan's Head Foodball Coach Jim Harbaugh just listed his million dollar estate in California and it is quite the compound.
Group of Historic Mansions for Sale in Michigan's Upper Peninsula
It's like owing your own little town! The ultimate package deal awaits the perfect buyer. Take a look at the these beautiful historic mansions being sold together. The homes, built in the late 1800's to early 1900's, total over 35,000 square feet and are located over 2.25 acres in Laurium, Michigan. Total price? $3,499,000.