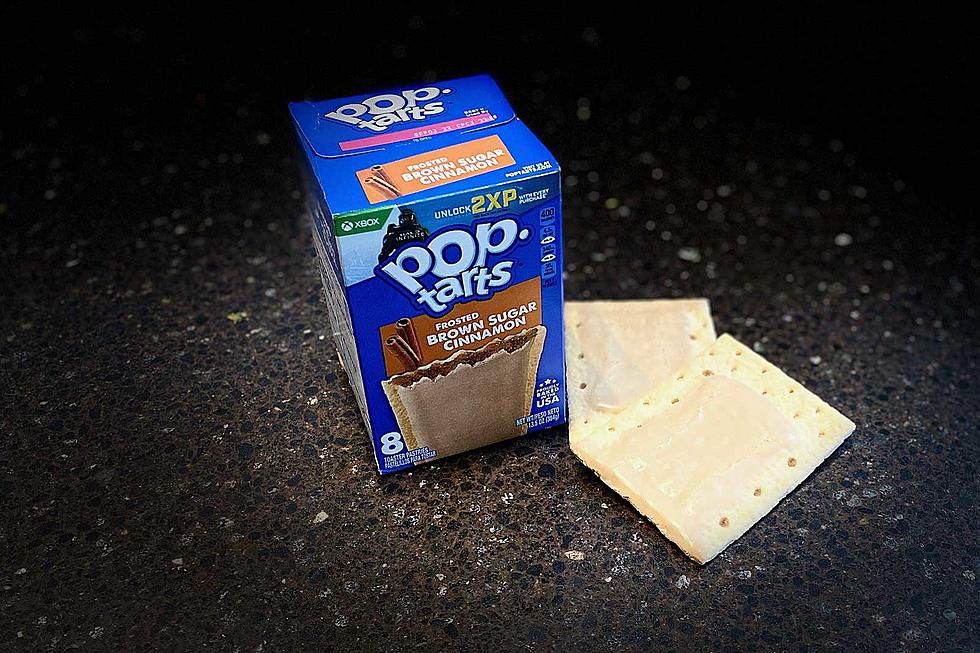 Kellogg's Pop Tarts Were Invented in Grand Rapids
Photo: Scott Winters/Townsquare Media
With the news of Kellogg's splitting into three separate companies and moving to Chicago, let's take a look at the history of one of their many products...
Many mornings, a lot of us jump out of bed, get ready for work, and then grab some Pop Tarts as we get ready to head out the door. For me, it's usually a brown sugar cinnamon Pop Tart.
Pop Tarts Were Invented in Grand Rapids!
I should sing praises every morning to a man by the name of Bill Post. It was back in 1964 that Bill received a call from Kellogg's. They had an idea, but weren't quite sure how to make their toaster pastry a reality.
The now 94-year old was a manager at Keebler at the time. His challenge was to come up with a way to take two sheets of dough and put a filling in between the two. At the same time, Kellogg's competitor -- Post -- was also trying to come up with a similar product that they referred to as "Country Squares".
It took Bill Post a few months to develop the Pop Tart. Kellogg's first sold their Pop-Tarts in Cleveland to see how they would sell. They started with 10,000 cases of each of the four original flavors. The four original Pop Tarts came in strawberry, blueberry, brown cinnamon sugar, and apple currant. The original flavors were unfrosted. Pop Tarts hit the shelves in grocery stores across the United States in November of 1964. In 1967, the first frosted Pop-Tarts hit the shelves with four additional flavors of Dutch-Apple, Concord Grape, Raspberry and Brown Sugar-Cinnamon. Now days you can find over 30 different varieties of Pop-Tarts.
Oh no, a Pop Tart Shortage!
The first shipment of Pop Tarts sold out in just two weeks. It took Kellogg's by surprise and they ran out of their new product. The company came up with an ad that said "Oops! We Goofed" and explained that they ran out of Pop-Tarts, but the breakfast pastries were back on shelves again in a few weeks.
What is Bill Post's Favorite Pop Tart?
Post said his favorite flavor is still one of the four original flavors -- strawberry. According to Kellogg's the favorite flavors are Frosted Strawberry followed by Frosted Brown Sugar Cinnamon.
WWMT TV-3 recently did a story about Bill Post. You can see it here...
How Do You Eat Your Pop Tarts?
Pop Tarts are designed to be toasted, however I prefer mine at room temperature, right out of the foil package. (Maybe I'm just too lazy to put them in the toaster!). Some people like to put butter on their Pop Tarts (I have not tried that yet!)...
A Movie About Pop Tarts?
Last summer, (June 2021), comedian Jerry Seinfeld announced he would be producing and starring in a movie about the creation of the Pop Tart. The film will be called "Unfrosted". It is scheduled to be released on Netflix in late 2022.
Pop Tart TV Commercials
How many of these do you remember? I miss Milton the Toaster!
Get A Job Making Pop Tarts
Kellogg's is currently hiring in Grand Rapids, MI. They are looking for someone to make Pop Tarts! The pay rate for the is role is $21 an hour plus a 20 cent shift differential for 2nd & 3rd shift. For a limited time, they are offering a $1,500 New Hire Incentive (restrictions and reimbursement agreement terms apply). You can get more information about the job here.
LOOK: 40 Discontinued & Special Edition Kellogg's Cereals