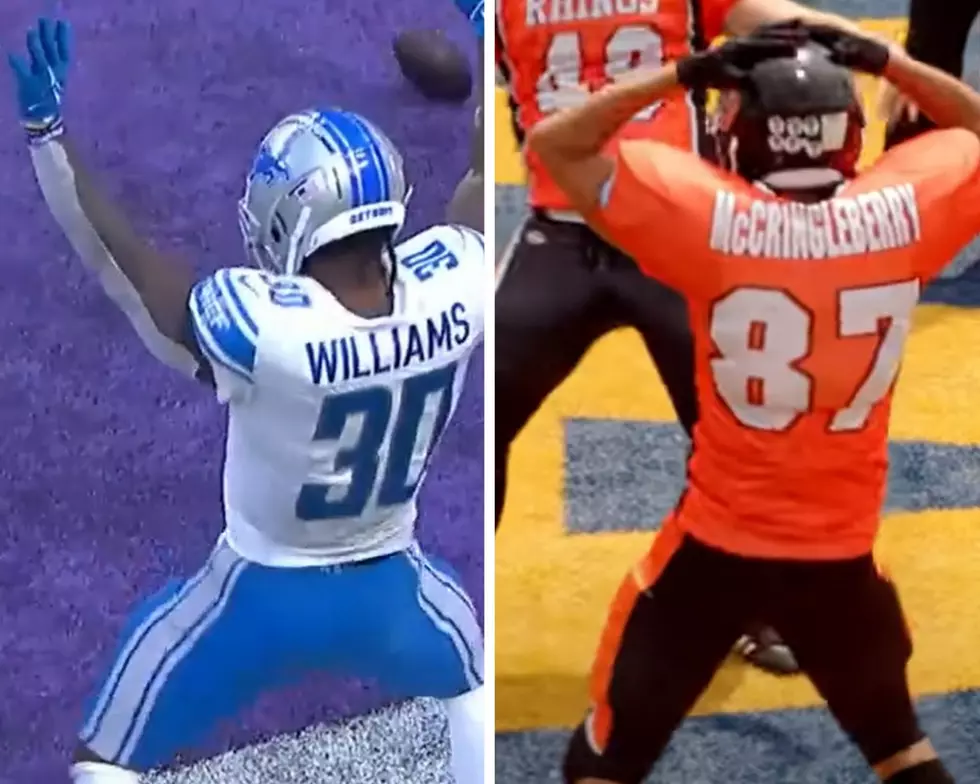 Lions' Jamaal Williams Penalized For 'Rude' End Zone Dance
NFL/Comedy Central via YouTube/Canva
As if their team returning to their original form wasn't bad enough for Lions fans on Sunday, Jamaal Williams forgot the "three pump" rule.
The Penalty Was For 'Excessive Celebration'
The always ramped up Jamaal Williams got a little carried away Sunday after scoring a touchdown for our lovable losers, the Lions. Williams ran in from 14 yards out and immediately broke out into a dance that was either a swivel hip Shakira imitation or a hip thrusting display a la Hingle McCringleberry from the Comedy Central show, Key and Peele.
The refs thought more the latter than the former and Williams was given a 15 yard 'excessive celebration' penalty.
The Hip Swinging Violated Key and Peele's 'Three Pump Rule'
The line was clearly drawn by the comedy duo of Key and Peele when they established the 'three pump' rule in a comedy sketch back on an episode of their Comedy Central series in 2013.
In the episode, the aforementioned Hingle McCringleberry pumped his hips one time too many, earning repeated flags for excessive celebration, and thus establishing the fictitious, but hilarious 'three pump rule'
Williams Says His Hips Were 'More Like A Wave And Not Thrusting'
After the game, a jovial Williams laughed off the penalty, saying his hips were moving 'more like a wave and not thrusting', and is why he was getting away with it prior to Sunday.
Ay any rate, the penalty was not costly to the Lions, as the Vikings fumbled the ball back to them on the ensuing possession.
Later, it was two Michigan natives doing the damage to the Lions as Holland's Kirk Cousins connected with Ypsilanti's K.J. Osborn for the winning touchdown with 45 seconds left to give Minnesota a 28-24 win. There were no post touchdown thrusts after Osborn's score.
40 Michigan Restaurants That Have the Best Burgers
Michigan has lots of good burger joints. What's your favorite? We asked, and here are the top burgers in Michigan according to you!