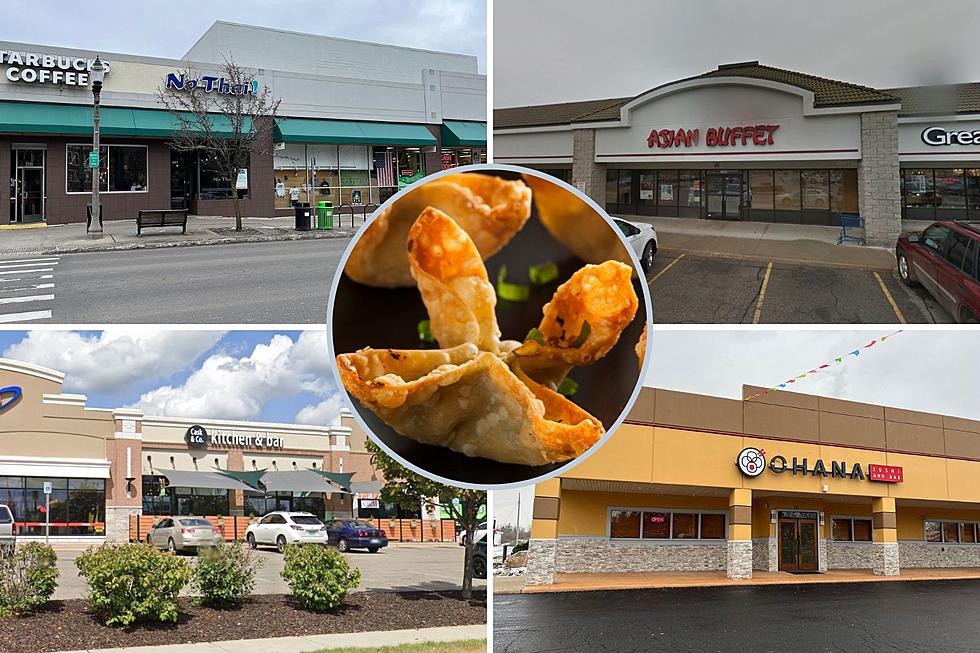 These Restaurants Have the Best Crab Rangoon in the Lansing Area
Google Streetview, Kristen Matthews TSM Lansing, and Canva Pro
What is the meaning of life?
What is my dog thinking?
Who has the best crab rangoons around Lansing?
The Best Crab Rangoon in Lansing
These are the tough questions in life, and we're here to help you find the answers. Well, the answer to who has the best crab rangoons in Lansing, at least...we can't really help you with the meaning of life thing, sorry.
But back to what I was saying about crab rangoons. Who has the best crab rangoons around Lansing? That's the question that one Lansing Foodie posed to the rest of the Facebook group, and boy, did Mid Michigan have some answers!
Lansing's Favorite Restaurant for Crab Rangoon
First, let's take a quick minute to pay tribute to the deliciousness that is a crab rangoon. There's something about the combination of crab, cream cheese, and green onions getting mixed together in a wonton wrapper and then getting deep-fried that seems to speak to everyone on some sort of level. And don't forget the dipping sauce! I know that my take-out meal is not complete without one of those deep-fried bundles of joy, so it's good to know that Lansing has me and my crab rangoon cravings covered.
Whether in Charlotte, Lansing, Okemos, or anywhere in between, Mid Michigan has a recommendation on where you can find the best crab rangoon around. Take a look at the list below to see if your favorite restaurant made the list and to find out which place took the number one spot.
See Which Lansing Area Restaurants Made the List for Best Crab Rangoon
An Inside Look at One of Lansing's Newest Restaurants; Ohana Sushi and Bar
I recently dined at Ohana Sushi and Bar, which is one of Lansing's newest restaurants. Not to mention, Lansing's newest all-you-can-eat establishments. However, this is not a ready-made buffet; everything is fresh to order. Take a look at what's going on at Lansing's latest eatery.
The 15 Best-Reviewed Restaurants in Lansing
From serving the yummiest food to providing top-notch customer service, these 15 Lansing restaurants are the best around. See below to find out which restaurants made the list.
Lansing Restaurants That Should Be Featured on Diners, Drive-Ins and Dives
The Lansing restaurants listed below are gems of the city. If you haven't been to all of them yet, add them to your list. We think Guy Fieri should add them to his list as well so he can feature them the next time he comes back to Lansing for Diners, Drive-Ins and Dives.
MORE TO EXPLORE: Michigan Restaurants Featured On The Food Network